建筑不仅仅是造型的问题,而应成为都市文化的载体,建筑师不仅仅是设计某种形式更是创造社会性的空间。
——现代建筑大师 伯纳德·屈米
Architecture is not just a matter of shape, should become the carrier of urban culture, Architects don't just design a form, Create a social space.
——Modern architect Bernard Tschumi
项目背景:"且将新火试新茶,诗酒趁年华。"喝茶,原本是一件生活中的小事,而现代主义建筑旨在以新的建筑形式回应人们的现代体验和当下社会的典型特征。因此,更要郑重其事地对待它,以超大复合空间,打造生活仪式感的现代潮流范本——T'TEA终于应运而生。
Project background: "Let's try new tea with new fire, and take advantage of the time with poetry and wine." Drinking tea was originally a trivial matter in life, and modernist architecture aims to respond to people's modern experience and the typical characteristics of the current society with new architectural forms feature. Therefore, we should treat it more seriously, and create a modern trend model with a sense of ritual in life with a super large composite space-T'TEA finally came into being.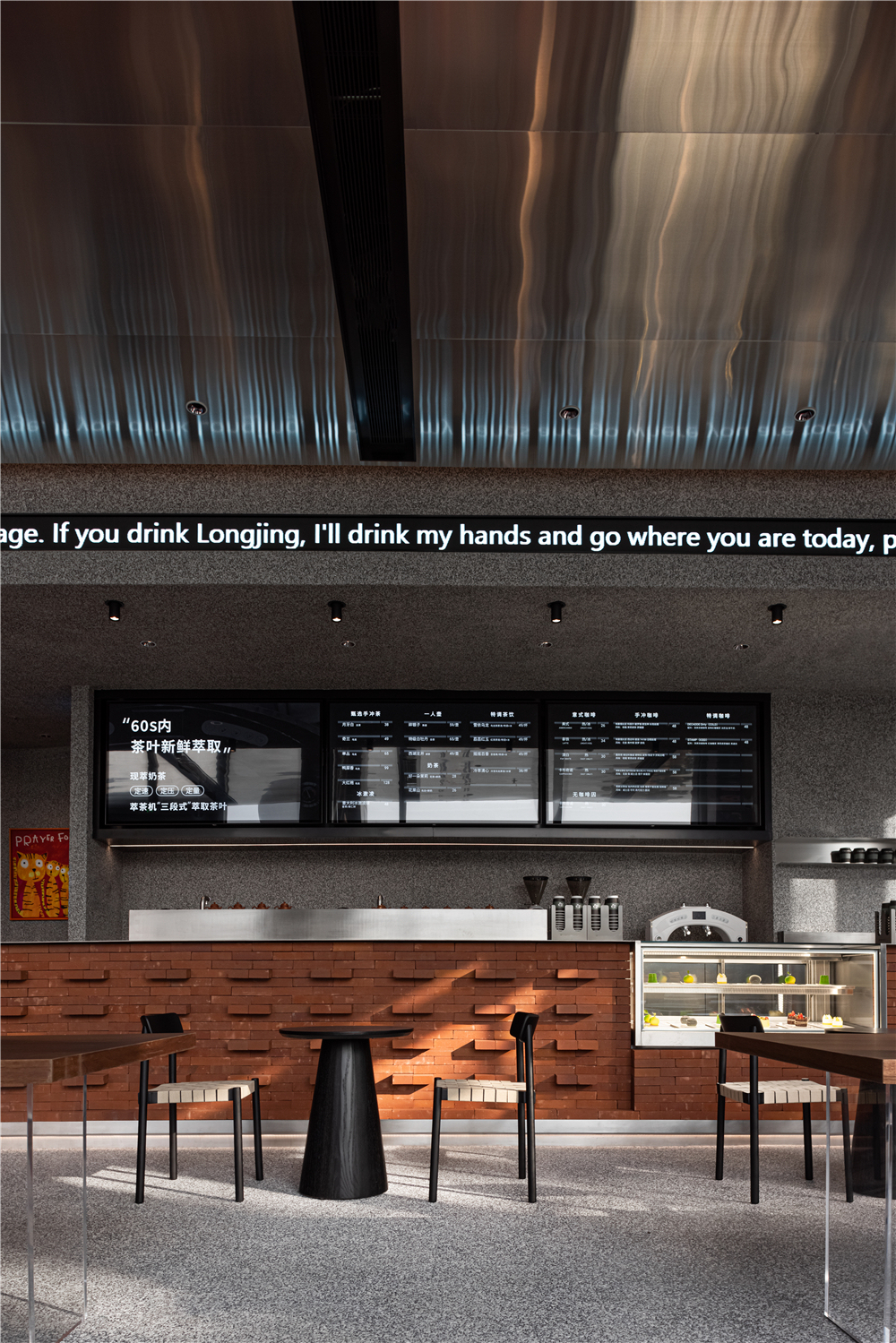 艺术、科技、质感在这里交融,共同汇聚成T'TEA的核心价值,它将渲染天津这座城市的人文氛围。设计本衷,是打造一处愉悦而先锋的现代城市空间,人们沉浸其中,全身心触摸到生活的质地。
Art, technology, and quality are blended here, and together they converge into the core value of T'TEA, which will render the cultural atmosphere of the city of Tianjin. The intention of the design is to create a pleasant and pioneering modern urban space, where people can immerse themselves and touch the quality of life with all their heart.
01 赏心乐事 · 现代传承Pleasure · modern inheritance
约上三五好友围坐在茶炉旁,一边品茗一边聊天,在袅袅升腾的烟雾中,从容散发着闲逸的生活态度。"围炉煮茶"已经成为当代年轻人的社交和生活方式。不同于传统茶馆厚重古典的装修、茶道品鉴的门槛,T'TEA诞生于现代性语境之下,将建筑的功能、空间与美学有机整合,赋予"喝茶"这一中式传统以崭新的内涵,激荡出传承与创新、静态与活力辩证关系的先锋思考。
Invite three or five friends to sit around the tea stove, sip tea and chat at the same time. In the curling smoke, they calmly exude a leisurely attitude towards life. "Cooking tea around the stove" has become a social and lifestyle of contemporary young people. Different from the heavy and classic decoration of traditional teahouses and the threshold of tea ceremony tasting, T'TEA was born in the context of modernity, organically integrating the function, space and aesthetics of the building, and endowing the Chinese tradition of "drinking tea" with a brand new Connotation stimulates pioneering thinking on the dialectical relationship between inheritance and innovation, static and vitality.
精巧的茶具、惬意的氛围、现代的设计理念……感官系统在多维信息的刺激下融入自身的想象力,树立对生活的温柔感触,形成情感上的共鸣。正是依托这一场域,年轻人与茶之间的距离正在消弭,取而代之的只有温暖精致、悠闲旷然的审美感受。
Exquisite tea sets, cozy atmosphere, modern design concept… Stimulated by multi-dimensional information, the sensory system integrates into one's own imagination, establishes a gentle touch to life, and forms an emotional resonance. Relying on this scene, the distance between young people and tea is disappearing, replaced by a warm and delicate, leisurely and unrestrained aesthetic feeling.
02 生活质感 · 科技赋能Quality of life Technology empowerment
在纷繁喧嚣的都市,仅关注眼前的琐事是对生命的辜负,人更应诗意地栖居。T'TEA以大量的水洗石、不锈钢、红砖铺陈出对生活质感的精准洞察,营造一个轻潮、考究、妥帖的空间,摹拟出倘然适意、妙不自寻的境界,生活的仪式感随着茶香,一一释放。
In the hustle and bustle of the city, only paying attention to the trivial things in front of you is a disappointment to life, and people should live poetically. T'TEA uses a large number of washed stones, stainless steel, and red bricks to lay out a precise insight into the texture of life, creating a light, elegant, and appropriate space, and imitating the realm of comfort and wonder, and the ritual sense of life. With the fragrance of tea, release them one by one.
科技赋能让各处建筑细节具备了人文关怀的温度。先进的智能光控及窗帘控制系统,悉心照顾着每一个人的情绪,室内色温随着时间的潮汐悄然变换。BOSE环绕背景音乐与6×3米的超大P2.0全彩高刷LED屏相得益彰,形成绝佳的空间呼应。无需多言,此处正心安。
Technological empowerment makes the architectural details everywhere have the temperature of humanistic care. The advanced intelligent light control and curtain control system takes care of everyone's emotions, and the indoor color temperature changes quietly with the tide of time. The BOSE surround background music complements the 6x3m ultra-large P2.0 full-color high-definition LED screen, forming an excellent spatial echo. Needless to say, I feel at ease here.
03 潮趣纷呈 · IP加持 Trendy and interesting · IP blessing
T'TEA主张用连续性的、包容化的方式,重新链接人与人的真实情感。敞阔而错落的空间把立体主义引入建筑,以一种潮而有致的方式呈现出来,带来更多的联系和互动,可以满足年轻人的多种用途,聚会、分享、讨论一应俱全。
T'TEA advocates reconnecting people's true emotions in a continuous and inclusive way. The wide and well-arranged space introduces Cubism into the building and presents it in a tidy and tidy way, bringing more connection and interaction, which can meet the multiple purposes of young people, including gathering, sharing and discussion.
TOCOO · 哆酷这一原创IP形象,无疑是年轻人强烈的个性化、符号化表达,用前卫而创新的表达形式碰撞无限活力,对当下的艺术风潮进行解构与串联,不仅传递新奇且富有潮玩气息的感官享受,更显品牌多元美学,确立独树一帜的空间风格。
The original IP image of TOCOO Doku is undoubtedly a strong personalized and symbolic expression of young people. It collides with infinite vitality with avant-garde and innovative forms of expression, deconstructs and connects the current art trend, and not only conveys novelty but also is full of fashion. The sensory enjoyment of playful atmosphere further demonstrates the brand's diverse aesthetics and establishes a unique space style.
04 先锋思潮 · 全新形态Pioneer Thought New Form
T'TEA展现了建筑形态学、城市组织方法的思考,新思潮、新材料、新科技在建筑中的应用,契合了领潮的先锋呼唤。建筑要素有机、透明地组合,形成一个特色语汇系统,以空间肌理回应新的事物存在方式,集中体现了一种反结构、反无趣、反静态的现代精神。
T'TEA shows the thinking of architectural morphology and urban organization methods, and the application of new trends of thought, new materials, and new technologies in architecture, which fits the pioneering call of leading the trend. Architectural elements are organically and transparently combined to form a characteristic vocabulary system, which responds to new ways of existence with spatial texture, and embodies a modern spirit of anti-structure, anti-boring, and anti-static.
诚然,现代性引发的人际关系的随机、疏离、虚无是不可避免的冲突,而T'TEA并不回避这些困境,在主观感知、物体变化、光与自然,以及空间体验方面付诸实践,终于以茶为媒介、以建筑为灵感,温和地消解矛盾。氤氲的雾气背后,是主理人一以贯之的美学追求与社会责任。
It is true that the randomness, alienation, and emptiness of human relationships caused by modernity are inevitable conflicts, but T'TEA does not avoid these dilemmas, and puts it into practice in terms of subjective perception, object changes, light and nature, and space experience, and finally Using tea as the medium and architecture as the inspiration, the contradictions are gently resolved. Behind the dense fog is the consistent aesthetic pursuit and social responsibility of the principal.
05 小结summary
新建筑、新场景、新产品、新人群、新玩法……T'TEA有着太多标签和可能,它是自我认知的回响、诗意现代主义的创造。人和空间的交流远不止一种方式,其中的多层涵义和生活质感,来杯茶吧,答案自然不言而喻。
New buildings, new scenes, new products, new people, new ways of playing… T'TEA has too many labels and possibilities. It is the echo of self-cognition and the creation of poetic modernism. There is more than one way of communication between people and space, and the multi-layered meanings and quality of life in it, let's have a cup of tea, the answer is self-evident.
项目信息——
项目名称:T'TEA
项目地点:天津
项目面积:300㎡
设计公司:触觉设计
施工公司:触觉工程
设计团队:王成凯、许亚琪、孙焱波、罗芹英
材料应用:水洗石、红砖、不锈钢、KD涂改板
设计时间:2022年2月-2022年7月
施工时间:2022年8月-2022年10月
拍摄时间:2022年10月
拍摄后期:瀚墨建筑摄影
Project Information——
Project Name:T'TEA
Project location:Tianjin
Project area:300㎡
Design Company:Tactile Design
Construction Company:Haptic Engineering
Design directors:Zhang Yong, Ma Xin
Design Team:Wang Chengkai, Xu Yaqi, Sun Yanbo, Luo Qinying
Material application:washed stone, red brick, stainless steel, KD painted board
Design Time:February 2022-July 2022
Construction Time:August 2022-October 2022
Time taken:October 2022
Post-shooting:Hanmo Architectural Photography