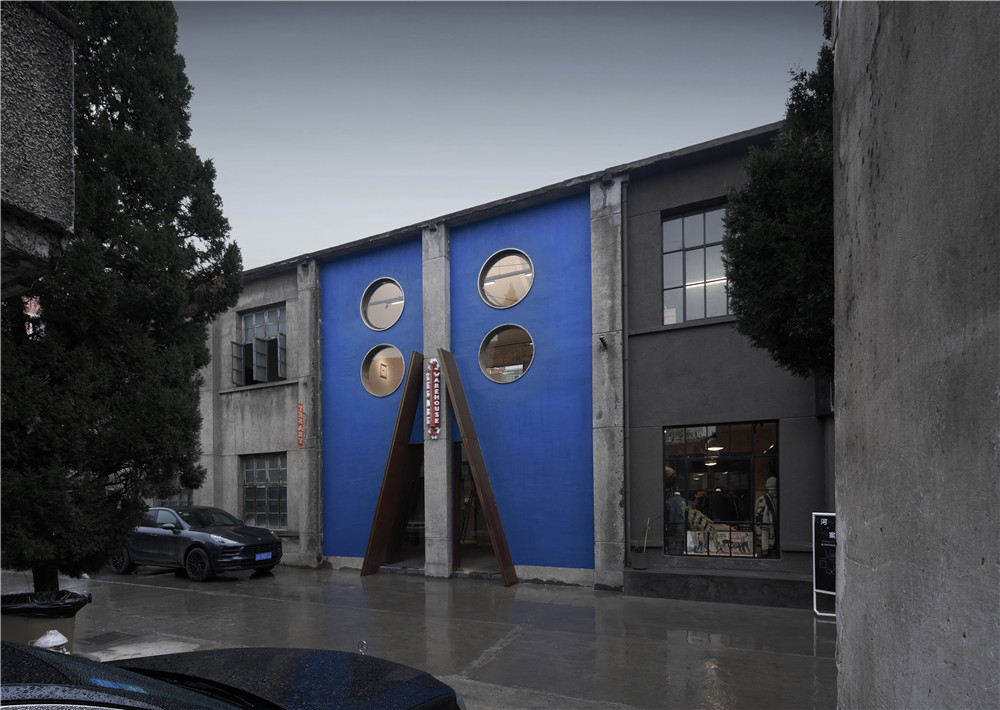 无限长的曲线,是宇宙的抽象,一头连着无限的过去,另一头连着无限的未来,中间只有无规律的随机起伏,一个个高低错落的波峰就像一粒粒大小不等的沙子。
——《三体》
The infinitely long curve, an abstraction of the universe, is connected to the infinite past at one end and the infinite future at the other end, with only irregular random ups and downs in the middle, and one high and low crest just like a grain of sand of different sizes.
——<The Three-Body Problem>
Yes Art Warehouse位于杭州长江中路52号天官创意园内的一个独栋小别墅中,在原为老厂房的基础上,改造为更鲜明的艺术工作室。
Yes Art Warehouse is located in a small, detached villa in Hangzhou Fengshan Gleaning Creative Park, transformed into a more distinctive art studio based on what was originally an old factory building.
叠加 Overlay
砖,作为建筑与室内的构思之源,在形与相、物与象的重构中融入环境。建筑物的部分漆成白色,其裸露的混凝土结构为工作室注入了一种舒缓的朴素感;部分运用了红砖元素,延续了原有的豁达肌理感,保留屋面和建筑轮廓,以此为材质基础延续感官。
Brick, as a source of conception for architecture and interior, is integrated into the environment in the reconfiguration of form and phase, object and image. Parts of the building are painted white, and its exposed concrete structure infuses the studio with a soothing sense of simplicity; parts of the building use red brick elements to continue the original sense of expansive texture, preserving the roof and building contours as a material basis to continue the senses.
室内空间中,大量的留白创造了简约的空间表面,集中场景美学,放大空间故事。整体空间纯净整洁,强化人对空间框架和秩序的知觉。
In the interior space, a large amount of white space creates a minimalist spatial surface that concentrates the aesthetics of the scene and amplifies the spatial story. The overall space is pure and tidy, reinforcing one's perception of spatial framework and order.
延续建筑多面折角的元素,通过金属材料的对称、翻折、穿透,蓝白色块的分割围合成不同的立体空间,进行室内外空间的贯通,将空间中的立体感与力量感完美展示。
Continuing the element of multi-sided folding of the building, through the symmetry, folding and penetration of metal materials, and the division of blue and white blocks to enclose different three-dimensional spaces, the interior and exterior spaces are connected, and the sense of three-dimensionality and power in the space is perfectly displayed.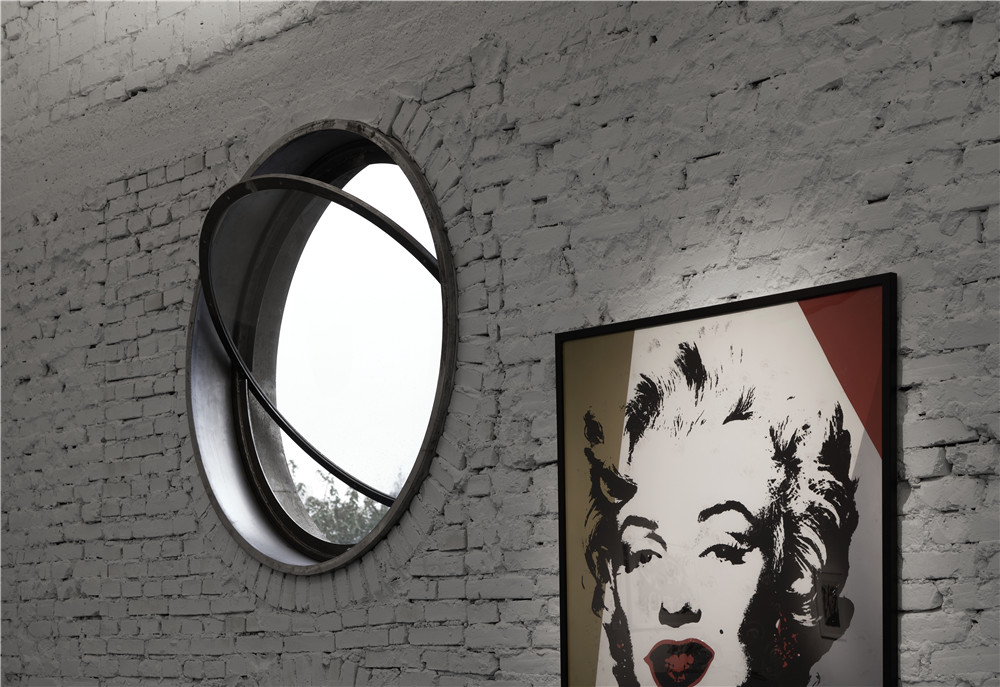 四个圆形玻璃窗户,如同通透的飞船驾驶舱,突破观者视野局限的同时,最大限度提升其艺术表现张力。
The four round glass windows, like the cockpit of a transparent spaceship, break through the viewer's restricted vision while maximizing the tension of its artistic expression.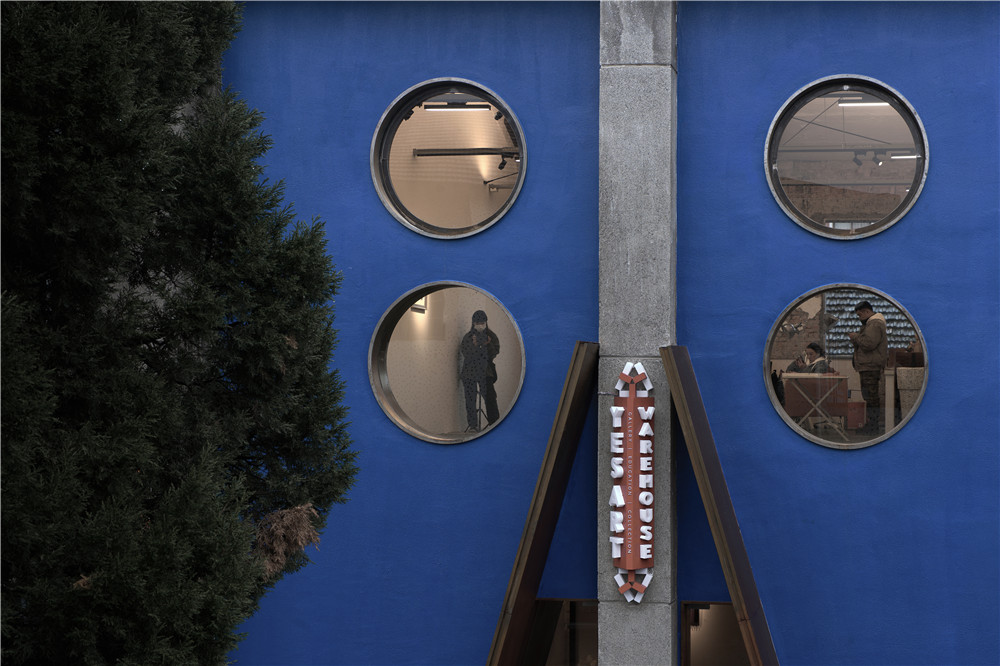 穿插 Interlacement
在建筑的情感,空间的气质中,艺术始终是另一维度的存在,艺术在某种层面扮演着拓荒者的角色,它可以跨越历史与当代,穿插区域与文化,汇聚自由与创新,为空间的空白填补想象,不断描绘出生活的答案。
In the emotion of architecture and the temperament of space, art is always another dimension of existence. Art plays the role of a pioneer at some level, it can cross history and contemporary, intersperse region and culture, converge freedom and innovation, fill the gap of space with imagination and continuously depict the answer to life.
线、面的构件沿着形式逻辑和内在结构有条不紊地展开,带来了韵律的美和深度的层次。
The components of lines and surfaces unfold methodically along the formal logic and inner structure, bringing rhythmic beauty and depth of layers.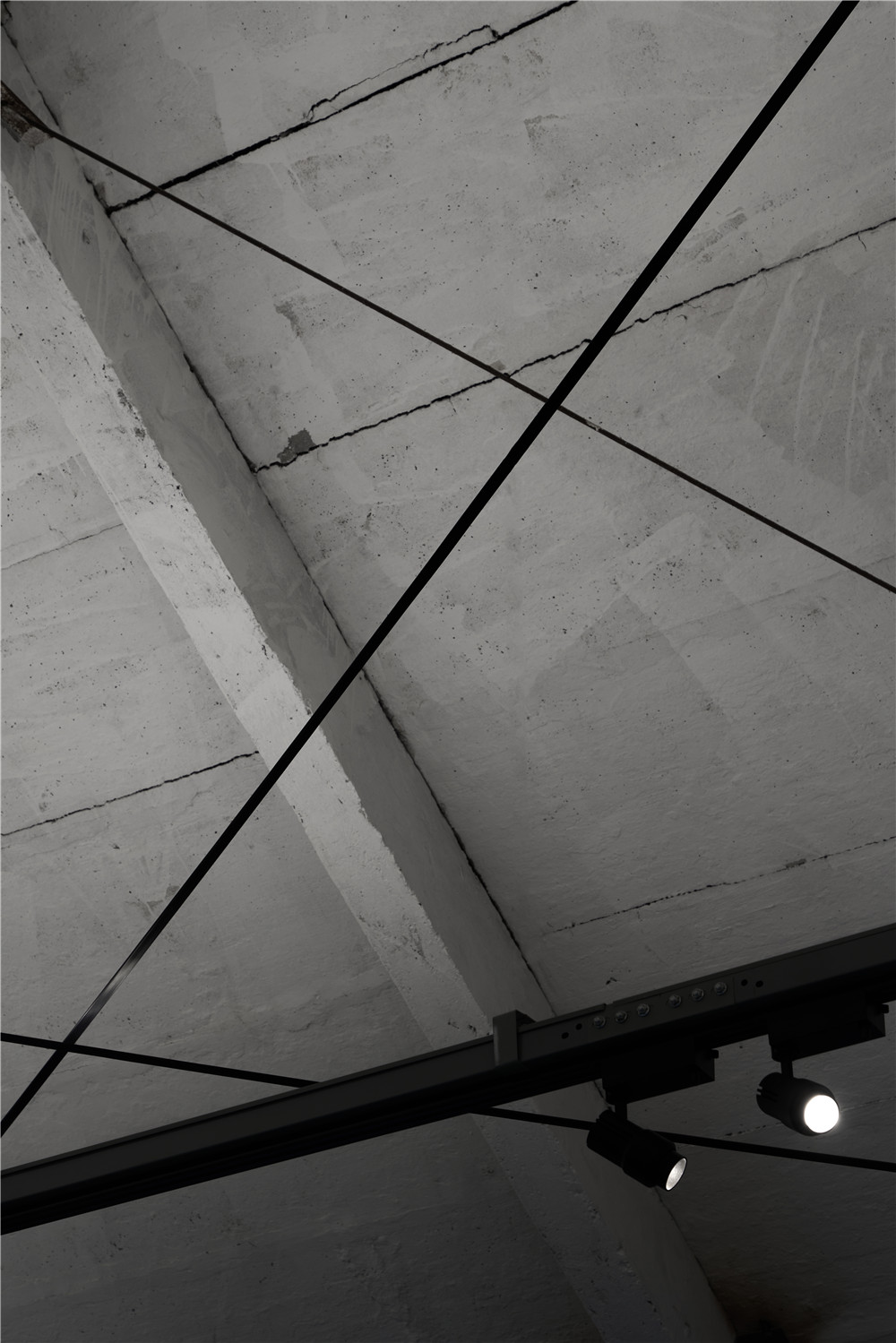 大量留白以及体块穿插将整个空间分隔、变换并且再次重组,让建筑和室内之间自由生长、协调共生,增加了一楼与二楼之间的连结丰富性,同时也实现了从聚合到疏散的空间过渡。
A large amount of white space and interspersed blocks separate, transform and reorganize the whole space, allowing the building and the interior to grow freely and harmoniously, increasing the richness of the connection between the first and second floors, and at the same time achieving a spatial transition from convergence to dispersion.
解构 Deconstruction
墙壁方正的几何体在空间中流动、组合、延展,重塑空间的生命力,严苛的比例控制,除了勾勒空间的基本属性之外,呈现视觉之后的下一个感知。
The square geometry of the walls flows, combines and extends in the space, reshaping the vitality of the space. The strict proportional control, in addition to outlining the basic properties of the space, presents the next perception after the vision.
在统一和谐之下,秩序是设计者强调的设计手法,简洁干净的线条,营造空间的节奏感和比例之美。
Under the unity and harmony, order is the design approach emphasized by the designer, with simple and clean lines, creating a sense of rhythm and beauty of proportion in the space.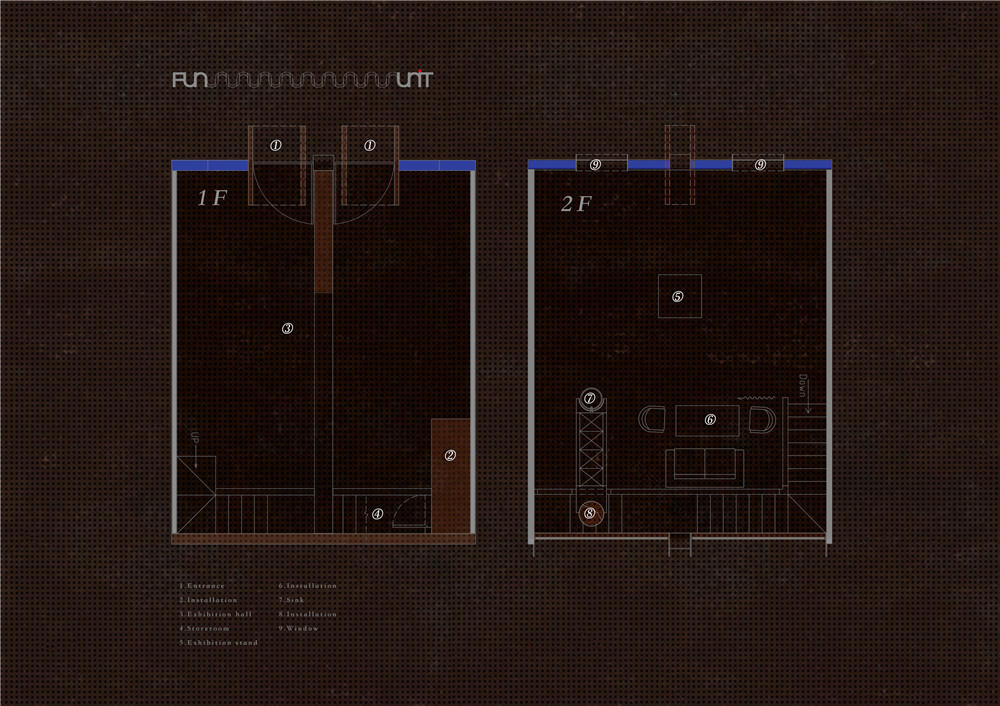 ▲平面图
项目信息——
项目名称:Yes art warehouse
设计单位:泛域设计
设计内容:艺术空间
主案设计:朱啸尘
项目规模:106㎡
施工单位:奕赋筑造
项目地址:杭州
项目摄影:奥观建筑视觉
完工时间:2020年10月
PROJECT INFORMATION——
PROJECT NAME:Yes art warehouse
DESIGN:Fununit Design
DESIGN CONTENT:ART Gallery
CASE DESIGN:Eason Zhu
DESIGN GROUP:Rujia Chen,Anqi Lin
PROJECT SCALE:106㎡
CONSTRUCTION:INNERFIX
PROJECT ADDRESS:Hangzhou
PROJECT PHOTOGRAPHY:AOGVISION
COMPLETION TIME:October 2020