科技的发展及城市化的推进,通信及获取资讯日益便利,人与人之间却形成了更深的沟通鸿沟,传统的家庭观念也日渐式微。
With the advances of technology and urbanization, communications and access to information become increasingly convenient. However, a deeper gap occurs in interpersonal communication. Besides, traditional family values also decline.
2020年初的一场全球化的疫情影响,让人们开始思考个体与家庭之间的关系,秦岳明作为总策展人,携手4位具有创新思维的优秀新锐设计师,探讨重塑"家"的各种可能性,探讨重塑"家"的各种可能性,以房子为有形的载体,搭建起关于家的多重场景空间,启发人们探索适合自我的生活方式的家。
Due to the impact of the worldwide pandemic in early 2020, people begin to think about relations between individuals and the family. As the chief curator, Ronger Kane, joined by four outstanding designers with innovative thinking, discussed diverse possibilities of home. Through the tangible carrier of houses, they constructed a multiple-scenario space about home,attempting to inspire people to explore homes suitable for their lifestyles.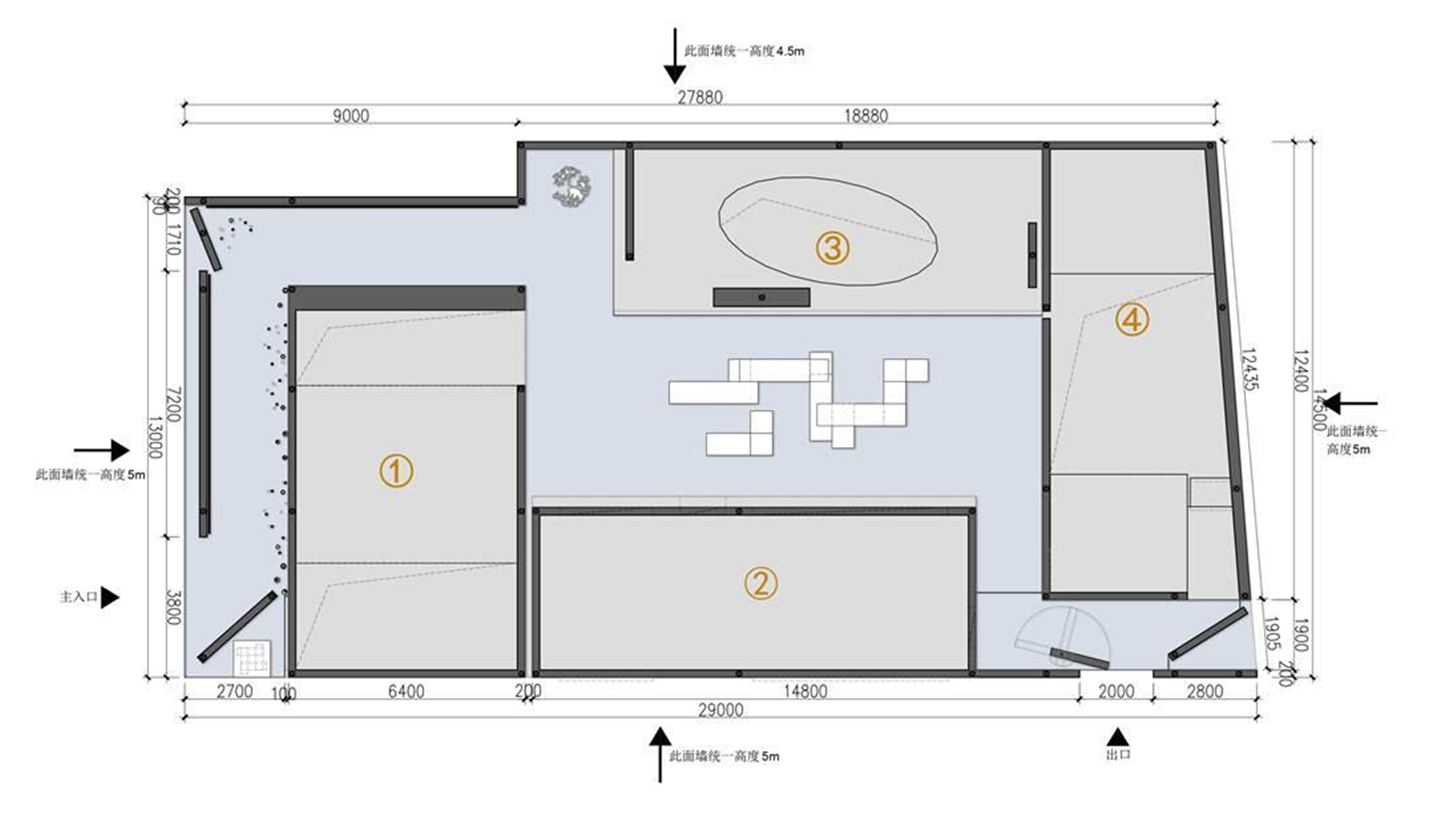 ▲平面布置图 Layout Plan
01 INSPIRATIONS 启发
总策展人秦岳明先生将本次策展空间定义为一次对未来家生活的试验场,希望让观者产生某些"启发",故将策展空间命名为「HOME LAB启发之家」。
Ronger Kane, the chief curator, defined this exhibition space as the testing ground for future home life. To bring inspirations to viewers, the exhibition space was named Home Lab-Home for Inspirations.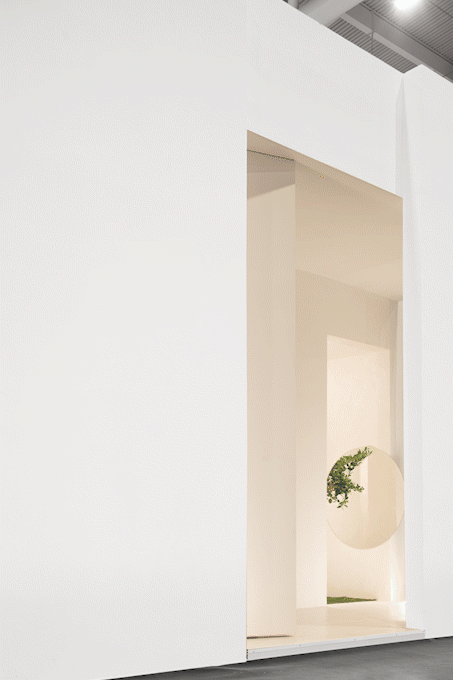 02 PURE WHITE 纯白
398㎡纯白极简建筑,留给人无限遐想,在"净"与"静"的空间美学之中去还原内心真实的家。
A 398-m² architecture in pure white and a simplest style, leaves unlimited fancies for viewers. In the spatial aesthetics of pureness and tranquility, visitors are encouraged to restore the actual homes in their hearts.
明暗交融,光影交错间,弹奏出沁人心扉的乐章,谱的或许是家的千姿百态。
As darkness and brightness mingle, light dances with shadows. An enchanting score sounds to interpret countless forms of homes.
03 MAIN THEME 主旋律
不可否认,传统必须是现代语境下的传统,忽视现实世界的问题去讨论传统只能固步自封。
Undeniably, traditions exist in the context of modernity. Discussing traditions while neglecting the real world's issues only leads to complacency and conservativism.
所以空间关系虽然是基于对传统建筑体系的理解,但摒弃了所有装饰性的符号,让人在纯白极简的空间中捕捉,秦岳明先生提出的中国古建院落概念和对柯布西耶的致敬元素,他所提出的这个想法让锦灰视觉艺术设计张雪川先生想起蒙特里安的绘画和现代建筑五要素理论,进而以一组Homelab的四合院布局(两横两竖)为组合参考,然后层层堆叠以表达现代建筑的立体构成,来定义和装饰空间。
Although spatial relations are based on understanding the traditional architecture system, they abandoned all decorative symbols, leaving people to capture in the pure white and simplest space the concepts of ancient Chinese courtyards proposed by Ronger Kane and elements paying tribute to Le Corbusier. The ideas proposed by him reminded visual art designer Xuechuan Zhang of Mondrian's paintings and the theory of five elements in modern architecture. Thus Mr. Zhang took a group of Home Lab's quadrangular courtyard layout (two horizontal and two vertical lines) as references for composition. Then he overlapped multiple layers to express the stereoscopic structure of modern architecture,as well as define and decorate the space.
张雪川将家建立在主人哲学观上的小小宇宙。
Xuechuan Zhang constructed homes on the little cosmos based on the master's philosophical views.
04 INTRIGUING 引人入胜
整体展厅的平面暗合了传统二进四合院的布局,立面的处理可以看到对现代经典建筑的致敬,入口设于侧面,经过富有仪式感的窄长可透视通道,进入内院,内院被四个相对独立的空间所环绕,让参观者体验到具有东方特质的园林氛围之余,又能感受到趣味横生的归家感受。
The layout of the overall exhibition hall coincides with that of traditional two-entry courtyards. The fa?ade processing can be regarded as a tribute to classical modern architecture. The entrance is designed on the side. Walking past the ritually narrow, long, and see-through passage, we will enter the inner courtyard. The inner courtyard is surrounded by four independent spaces, allowing viewers to experience not only the garden atmosphere with oriental qualities, but also the intriguing feel of returning home.
后门设有大轴门营造神秘感,同样也会吸引观展人进来一探究竟。
A large pivot door is installed at the back entrance to create a sense of mysteriousness, and attract viewers to enter for explorations.
05 A WORLD of ITS OWN 别有洞天
对院子的记忆相信是很多国人对"家"的向往中难以抹掉的情结,小小一方庭院,栽花种草养精神,成为人和自然沟通的场所。
It is believed that memories about courtyards are unerasable complexes in many Chinese people's yearnings for home. A small square courtyard is dotted with flowers and grass to brighten up the owner's spirit. Thus it becomes the site for communication between humans and nature.
院落和天井作为中国传统建筑的重要元素,既是自然采光、通风的关键节点,也是连接各个功能区的纽带,同时通过起、承、转、合来控制整体空间的节奏和相互关系,这也是秦岳明先生所理解的中国传统空间的精髓。
As two important elements of traditional Chinese architecture, courtyards and patios are not only nodes critical for natural lighting and ventilation, but also serve as links between each functional zone. Meanwhile, starting, undertaking, turning, and closing are combined to control the overall space's rhythm and mutual relations. Also, they reflect the essence of traditional Chinese space, as was understood by Ronger Kane.
06 EVEN BETTER 渐入佳境
环绕内院四个相对独立的空间,分别由谢培河先生、谢迪生先生、吴敏文&阳建勋先生、李宝龙先生,四位优秀新锐设计师负责策展,既有理论性的探讨,也有实践性的尝试,还有概念性的实验,籍此阐述他们对未来居住空间的思考。配合不同材料的展示和运用,正好契合了整体主题:HOME LAB。
Four independent spaces that surround the inner courtyard are respectively exhibited by Peihe Xie, Disheng Xie, Minwen Wu & Jianxun Yang, and Baolong Li, four outstanding innovative designers. Aside from theoretical discussions and practical trials, they also conducted conceptual experiments, wishing to express their thoughts on the future living space. The presentation and application of diverse materials are perfectly consistent with the overall theme: Home Lab.
▲吴敏文&阳建勋:园里墙外 Minwen Wu & Jianxun Yang:Inside the Courtyard and Outside the Wall.
▲李宝龙:花园之家 Baolong Li: Home of Garden
▲谢迪生:时寸有"感" Disheng Xie: Feelings About Time and Space
▲谢培河:镜像游离 Peihe Xie: Dissociation of Mirror Images
07 WONDERING 言近旨远
所有这一切,都基于在当下的认知体系上构建对家的思考,秦岳明先生希望能由此启发人们去探索出适合自我生活方式的家,去思考如何建立未来的人居关系。
All of these. Are based on thoughts concerning home in the current cognition system. Mr. Ronger Kane hoped that it would inspire people to explore homes suitable to their lifestyles and think about how to establish human-residence relations for the future.
"家,应在建造中有艺术,在生活里有艺术,而不是设计的突出或显摆。所谓的设计,应该自然的,融入空间和生活中的,'设计'并不是最重要的,最重要的是生活的态度。"
——秦岳明
"The home should display art in construction and life rather than accentuate or show off designs. The so-called design should be natural and blended with space and life. What matters most are not "designs" but attitudes towards life."
——By Ronger Kane
项目信息——
项目名称:HOME LAB启发之家
项目面积:398㎡
竣工时间:2021年3月
总策划:朗联设计秦岳明
朗联设计团队:陈开贻、张京伦、谭淇尹、陈浩
区域设计:超级平常吴敏文&阳建勋、绽放设计李宝龙、迪笙设计谢迪生、艾克建筑谢培河
主办单位:深圳市室内建筑设计行业协会、星河第三空间、深圳时尚家居设计周
联合主办:顶贺环境设计、于强室内设计、朗联设计、绽放设计、迪笙设计、超级平常室内设计、艾克建筑设计
支持品牌:AXOR、汉斯格雅、杜拉维特、德国法兹全屋净水、瑞士吉博力、特壹五金、威法定制、Aster、Miele、誉美世界画廓、帕诺地板、吉纳思涂料
视觉设计:锦灰设计张雪川
项目拍摄:周心然
灯光支持:石客照明
Project Information——
Project name:HOME LAB
Project location:Shenzhen, Guangdong
Project area:398㎡
Completion time:March 2021
Chief Designer:Ronger Kane, Rongor Design
Rongor Design Team:Kaiyi Chen, Jinglun Zhang, Qiyin Tan, Hao Chen
Section Design:Super Normal – Minwen Wu & Jianxun Yang, Bloom Design – Baolong Li, Disheng Design – Disheng Xie, AD Architecture – Peihe Xie
Organizer:Shenzhen Interior Architectural Design Industry Association, Galaxy Third Space, Shenzhen Fashion Home Design Week
Co-hosted:D&H Environmental Design, Yu Qiang Interior Design, Rongor Design, Bloom Design, Disheng Design, Super Normal Interior Design, AD Architectural Design
Supporting brands:AXOR, Hansgrohe, Duravit, Faz Water Purification, Swiss Geberit, Teyi Hardware, Wifa Custom, Aster, Miele, Yumei Gallery, Pano Flooring, Ginasi Paint
Visual Design:Xuechuan Zhang – Graycool
Project Photography:Xinran Zhou
Lighting Support:Shike Lighting