D&M店与面受邀为爱尔眼科医院集团股份有限公司打造的深圳爱尔西柚眼科,落成于深圳南山区TCL大厦。设计项目核心是颠覆以往传统守旧的医疗设计,从品牌理念与视觉设计到品牌体验空间的创建,打造国内眼科医疗领域的高阶服务体验。
D&M was invited by Aier Eye Hospital Group Co.,Ltd to build Shenzhen AIER See You Ophthalmology, which was completed in TCL Building, Nanshan District, Shenzhen. The core of the design project is to overturn the traditional and conservative medical design, from the brand concept and visual design to the creation of brand experience space, to create a high-level service experience in the domestic eye medical field.
改变与连接,是未来眼科医疗的破局关键,在1200平方米的空间进行多层级的品牌价值构建和全维体验,是其成为一个讲述"发现更好的自己"的完美蜕变故事的全新场景领域,打造一个时下年轻人为之神往的"青春造梦场"。
Change and connection are the key to the future of ophthalmic medicine. Multi-level brand value construction and all-dimensional experience in the 1200 square meter space is a new scene that tells a perfect transformation story of "Finding a better yourself", and create a "Youth dream field" that young people are fascinated by nowadays.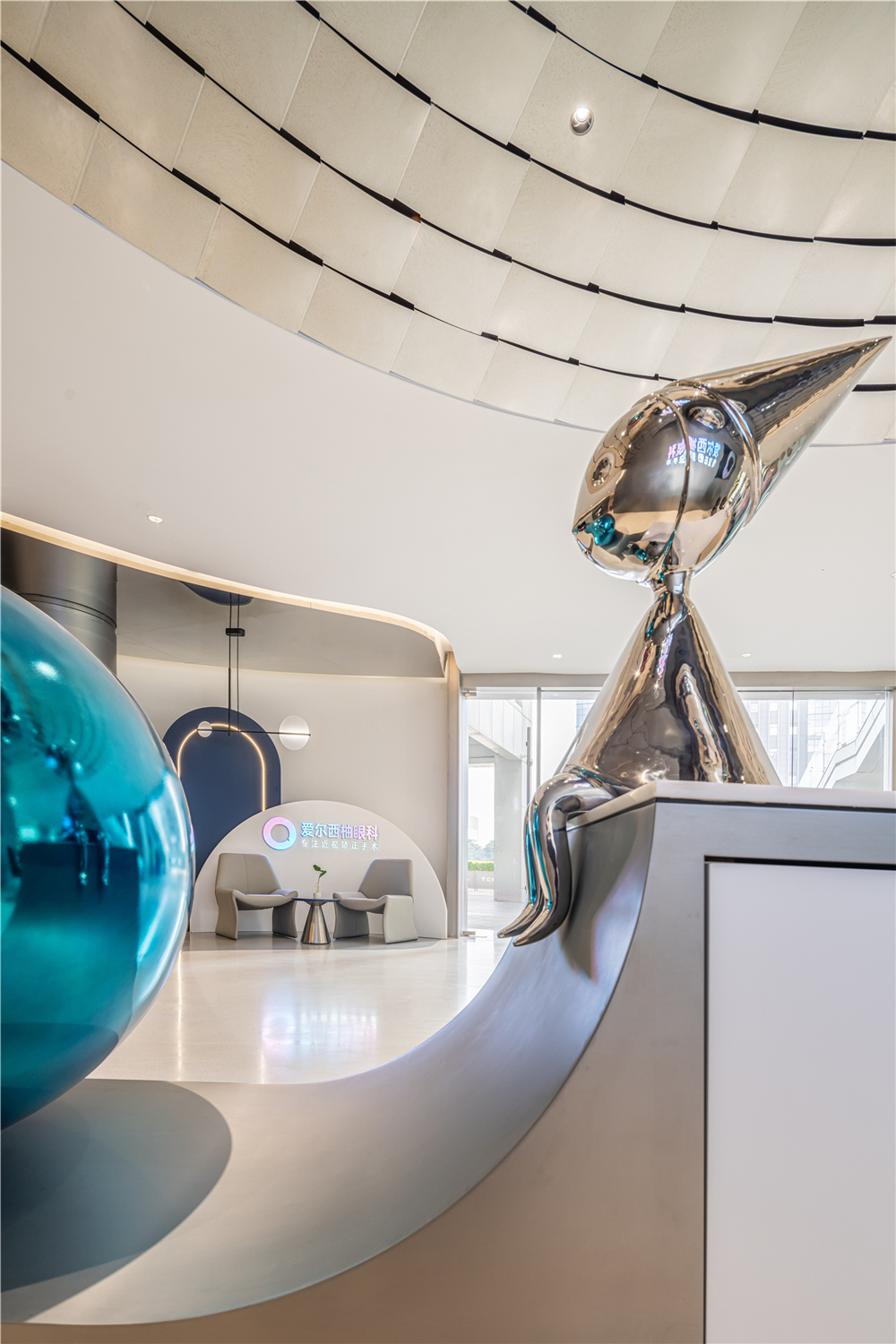 D&M为此确定了设计策略:"打造1200平方米的眼科医疗美学空间,开放式结构连接多元与趣味,年轻人潮尚社区感性体验包裹理性诊疗流程体验内核,收放之间尽显爱尔西柚的品牌个性与气质"。
D&M determined the design strategy: "to create a 1200 square meters of ophthalmic medical aesthetic space, open structure connecting diversity and interest, the emotional experience of young people in the fashion community encapsulates the experience core of rational diagnosis and treatment process, display AIER See You brand personality and temperament between the extension".

基于"青春、活力、柔美"的设计调性,品牌标识采用更具潮范与青春动感的双瞳设计,象征专业与热情的蓝红色系搭配,传递安全与美好的品牌信息,"发现更好的自己"的品牌SLOGAN激发年轻群体对未来美好可能的无限想象。
Based on the tonality of design "youth, vitality, graceful", the brand identity adopts a more fashionable style and youthful dynamic double pupil design, symbolizing professional and enthusiastic blue and red department collocation, conveying safety and good brand information."Find a better yourself" brand SLOGAN inspiring young people to imagine the possibilities of a better future.
"198镜像"是前台天花的艺术装置,由国内著名艺术家操刀,198片8K镜面不锈钢组合而成的穹顶,仰视中可见198个自身镜像如繁星点缀天际,意蕴"发现更好的自己"的心理暗示,又如波光粼粼,激发惊叹与想象力。
"198 Mirroring" is the art installation of the front desk ceiling,designed by famous domestic artists.Dome is composed of 198 8K stainless steel mirrors. Looking up, you can see 198 mirror images of themselves dotted the sky like stars, implying the psychological suggestion of "Finding a better self", and inspiring wonder and imagination like sparkling water.
创意钢偶与蓝球,仰俯间,"天地人"的哲学意境与即将的完美蜕变暗示呈现平衡且协调的空间语言体系。
Creative steel puppetry and blue ball, the philosophical conception of "Heaven, Earth and Human" and the imminent perfect transformation hint present a balanced and harmonious space language system.
半私密的星际穿梭门构建,活力青春、粉萌浪漫、时尚格调总有一款合你心意,徜徉其中,或小憩,或咨询,或娱乐,各取所爱,不一而足;
The semi-private interstellar travel gate is built with youthful, romantic and fashionable styles. There is always one that suits your mind. Wander in it, or take a rest, or consult, or entertain yourself.
原木色与高亮白撞色,有序分明的空间规则,自然愉悦与理智专业精准铺陈,简约中的美好原来如此简单。
Burlywood clashing with bright white color, orderly and clear space rules, natural pleasure and rational professional precise presentation. The beauty of simplicity turns out to be so simple.
大面积木色与不锈钢弧形内廓呈现出自然舒适与科技张力的平衡,时尚简约的导视系统令人赏心悦目。
Large area wood color and stainless steel curved interior presents a balance of natural comfort and technological tension, stylish and simple guide system is pleasing to the eye.
手术观摩区的长弧观察窗口,让室外的亲朋好友可即时看到屈光手术的全过程,让安全与放心看得见。
The long arc observation window in the surgical observation area allows friends and relatives outside to see the whole process of refractive surgery immediately, making it safe and assured to see.
一览无遗的高透明内外场,开放透明的设计思维不光是基于采光和释放空间,更可感受爱尔西柚品牌的高度自信及高效安全的认知表述。
Unobstructed high transparency inside and outside field,the open and transparent design thinking is not only based on lighting and space release, but also can feel the highly confident and efficient and safe cognitive expression of AIER See You brand.
半私密的太空舱休息区,充满艺术情调,极简的分隔弧意味着完美而严谨的秩序感;
The semi-private space capsule rest area is full of artistic atmosphere, and the minimalist arc of separation implies a perfect and rigorous sense of order.
色彩斑斓的护士站,洋溢着热情与美好,极简中的一抹亮色惊艳而又温暖。
The colorful nurses' station is full of enthusiasm and beauty. A bright color in minimalism is stunning and warm.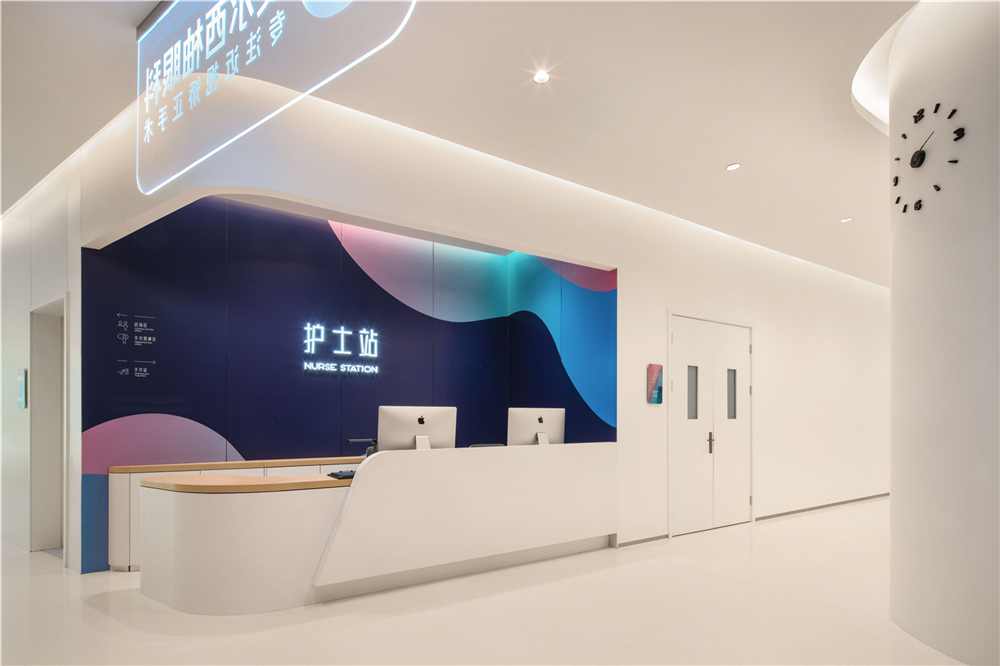 全空间的圆弧形设计让柔和更具亲切感,天花如星空点缀,浩瀚而又美好。
The circular arc design of the whole space makes it soft and more intimate. The ceiling is like starry sky ornament, vast and beautiful.
D&M店与面构建出"美(为美而变)、知(为知而信)、信(为信而行)"三大主核体验区,洞悉消费者消费心理下的浸润式的体验流程。
D&M have built three main core experience areas of "Beauty (Change for beauty), Knowledge (Trust for knowledge), and Faith (Action for faith)", insight into the consumer's infiltrating experience process under the consumer psychology.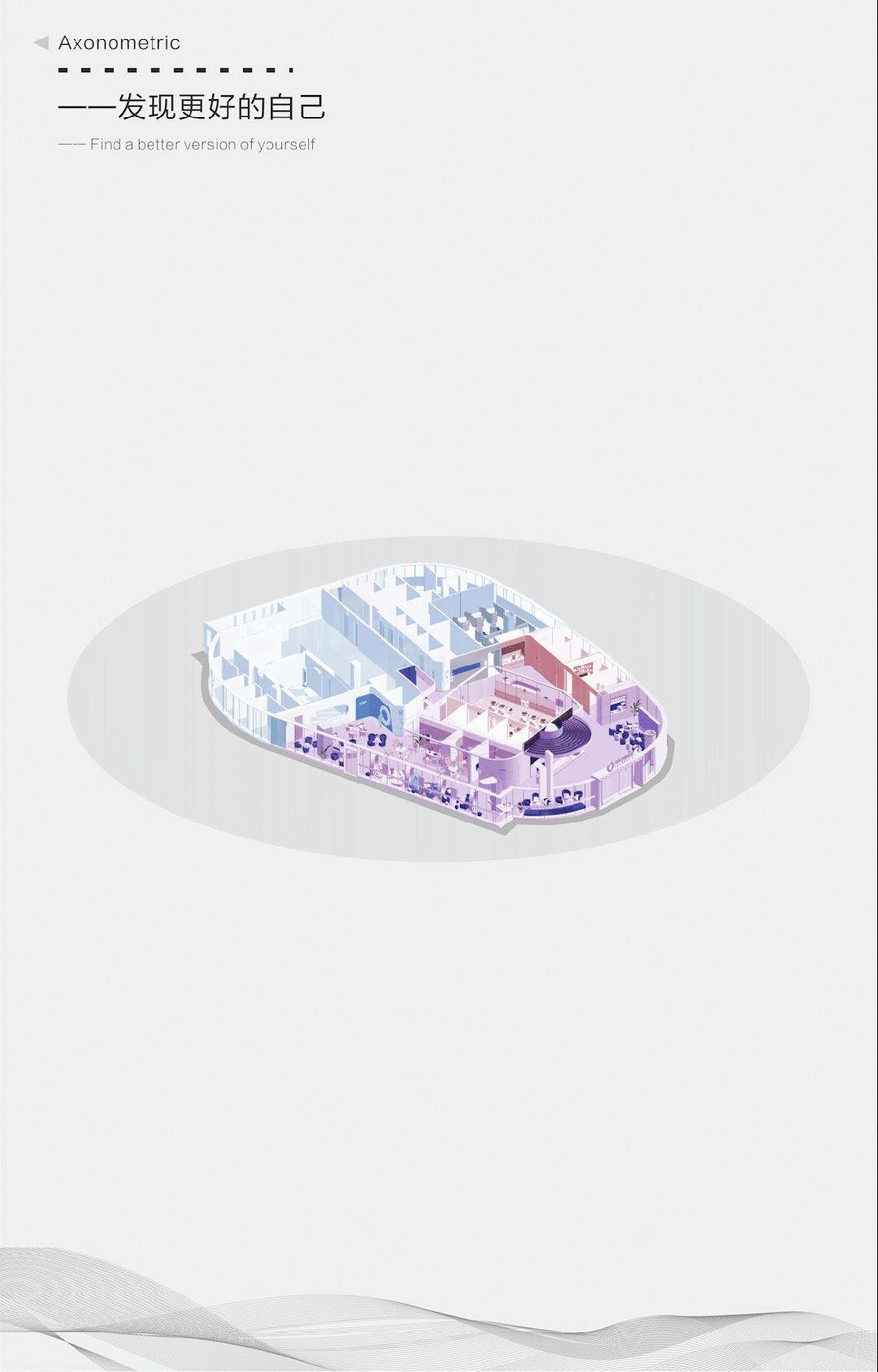 夜幕初沉,庄严下的静谧,爱尔西柚。
There was a solemn silence in the early evening , AIER See You.
D&M店与面,秉承"让零售创新更有趣有效"的设计理念,聚焦新零售领域的品牌升级以及空间创意体验设计。我们致力于在零售创意领域为不同行业的前瞻性客户,打造最顶级的零售空间创意体验和品牌营销推广的视觉设计。
D&M adhering to the design concept of "making retail innovation more fun and effective" ,focus on brand upgrading and space creative experience design in the new retail field.We are committed to creating top-notch retail space creative experience and brand marketing visual design for forward-looking clients in different industries,create top-notch visual design for retail space creative experience and brand marketing promotion.
项目信息——
项目名称:深圳爱尔西柚眼科门诊部
项目业主:爱尔眼科医院集团
设计方:店与面(广州)创意设计有限公司
主创设计:邱启平
视觉设计:袁善铭、盛威、董兰
甲方团队:李啸、屈娟、陈渊
工程管理:周志勇、陈康林
工程单位:湖南瑞联建筑装饰有限公司
装置艺术:广州玖艺装置艺术有限公司
道具定制:广州市威墩展柜有限公司
家具定制:沈阳圣奥文仪家具有限公司
主材供应:深圳朗生整装科技有限公司
广州金霸建材股份有限公司
上海欧雅装饰材料南方公司
项目地址:中国 深圳
完成时间:2022年2月
建筑面积:1200㎡
视觉&传媒管理:李帆、叶泽键
摄影:吴鉴泉、吴非
撰文:袁善铭
Project Information——
Project name:Shenzhen Aier See You Ophthalmic Outpatient Department
Project owners:Aier Eye Hospital Group
Designer:D&M (Guangzhou) Creative Design Co., Ltd
Chief creative design:Jacky
Designer Team:Galen lee,Liu Weiyan,Lin Tao
Visual design:Yuan Shanming,Sheng Wei,Dong Lan
Party A team:Li Xiao,Qv Juan,Chen Yuan
Engineering management:Zhou Zhiyong,Chen Kanglin
Engineering unit:Hunan Ruilian Building Decoration Co.,Ltd
Installation art:Guangzhou Nineart Installation Art Co., Ltd
Prop customization:Guangzhou V-Done showcase Co.,Ltd
Furniture customization:Shenyang Sunon Wenyi Furniture Co., Ltd
Main material supplier: Shenzhen Lansen Integrated Technology Co.Ltd
Guangzhou Gold Kings Building Material Co., Ltd
Shanghai Euroart Decoration Materials Co.,Ltd
Project address:Shenzhen,China
Completion time:February 2022
Building area:1200m²
Visual & Media management:Li Fan,Ye Zejian
Photographer:Vincent,Wu Fei
Written by:Yuan Shanming