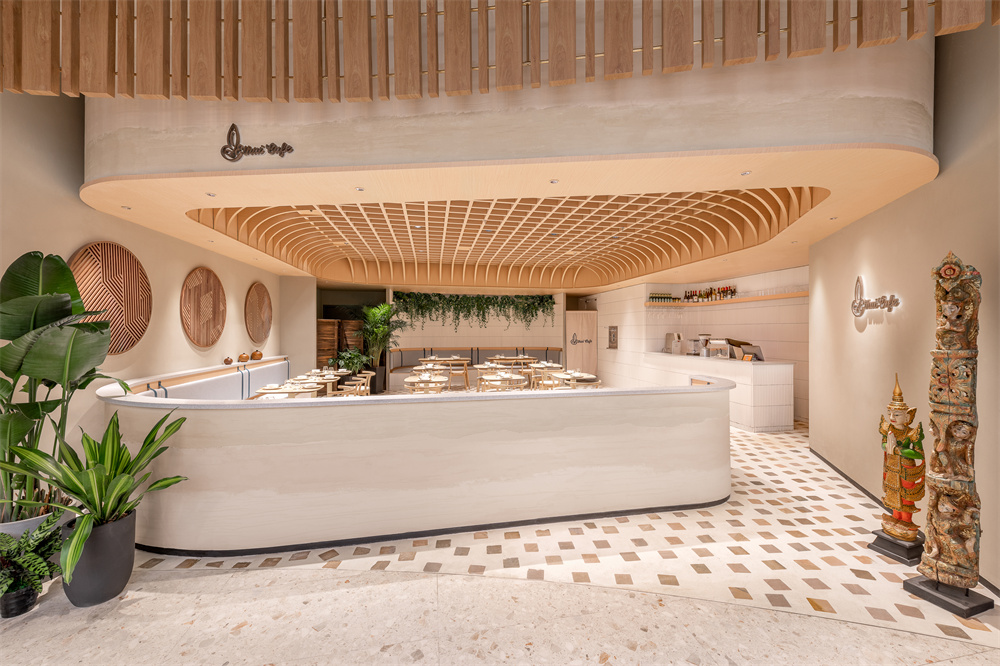 隐藏在上海嘉里中心繁忙的地下商场里,Ethai Café对传统泰国菜做了一种全新诠释,专注于用健康食材制作简单清淡的菜肴。朴素的色彩和材料调色板的渐变是基于泰国中部的考古遗址和土地的回想。同样地,EthaiCafé似乎是由包裹着外墙的夯土雕刻而成的。
Tucked away in the busy commercial basement of Shanghai's Kerry Center, Ethai Café offers a fresh take on traditional Thai cuisine, focusing on simple light dishes created from healthy ingredients. The earthy color and material palette is based on gradients reminiscent of central Thailand's archaeological sites and lands, and its nooks and sitting areas appear to have been carved out of therammed earth that envelops the façade.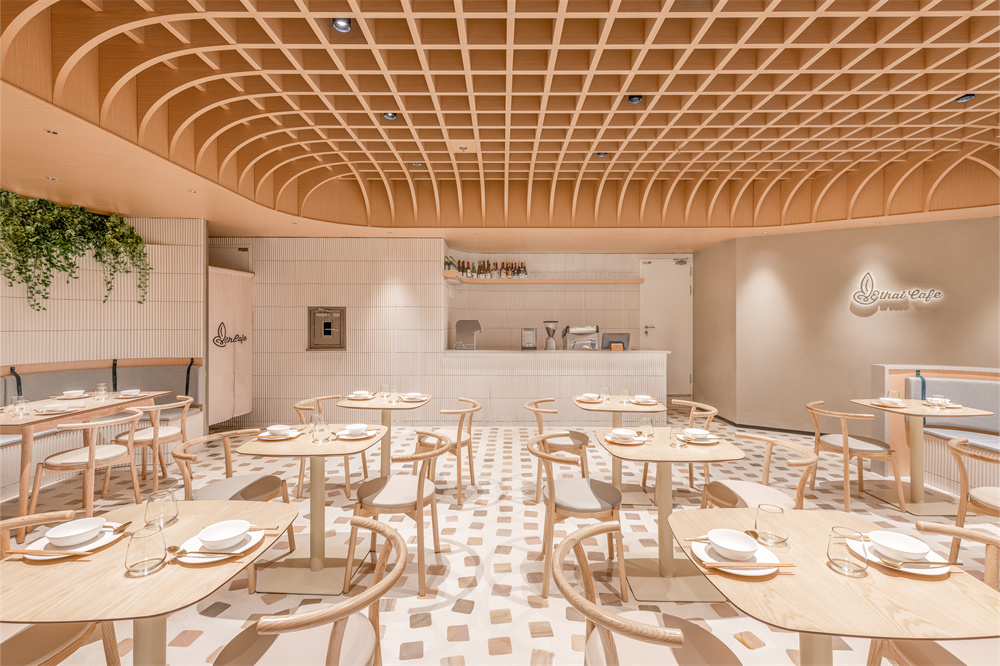 考虑到场地的隐蔽性和拘束性,我们想象一个可以为城市生活的喧嚣提供和平和短暂撤退的空间,创造一种 "空间中的空间 "的意境。 为了实现这一目标,项目遵循了包络几何学的方向性概念。立面的设计通过降低的天花板和低墙,从公共区域给空间一个轻微的切口,像一条丝带一样从餐厅内部展开,垂到外部。矮墙的一个开口,露出里面的长椅,创造了一个引人的入口,自然地引导顾客进入空间。空间的体积略微偏离场地边界,强化了这种 "空间中的空间 "的感觉。
这种布局给了顾客一定程度的隐私,同时仍然与公共空间的其他区域有一定的联系。俯瞰顾客的是一个圆顶状的天花板,由一排木梁组成,其中隐藏着照明设备。这个结构定义了一个拱形的空间,让人感觉私密而亲切,像对原始小屋的一种现代诠释。
Given the secluded and constrained nature of the site, we imagined a space that could provide a peaceful and transient retreat from the hustle and bustle of city life. In order to achieve this, the projectfollows the directional concept of an enveloping geometry. Consequently, the facade is willinglydesigned give a slight cut to the space from the public area, through a lowered ceiling and a low wall,unfolding like a ribbon from within the restaurant and draping the exterior. An opening of the low wall,which reveals a banquette on the inside, creates an inviting entrance, naturally guiding customers intothe space. These volumes are slightly offset from the site boundaries, enforcing this feeling of "space within space".
The layout gives customers a certain level of privacy, while still feeling somewhat connected to the restof the public space. Overlooking the customers stands a dome-shaped ceiling, formed by a grid of wooden beams, in which conceals the space's lighting. This structure defines a vaulted space that feelsprivate yet convivial, like a contemporary interpretation of the primordial hut.
▲入口立面
▲入口处降低的天花板和低墙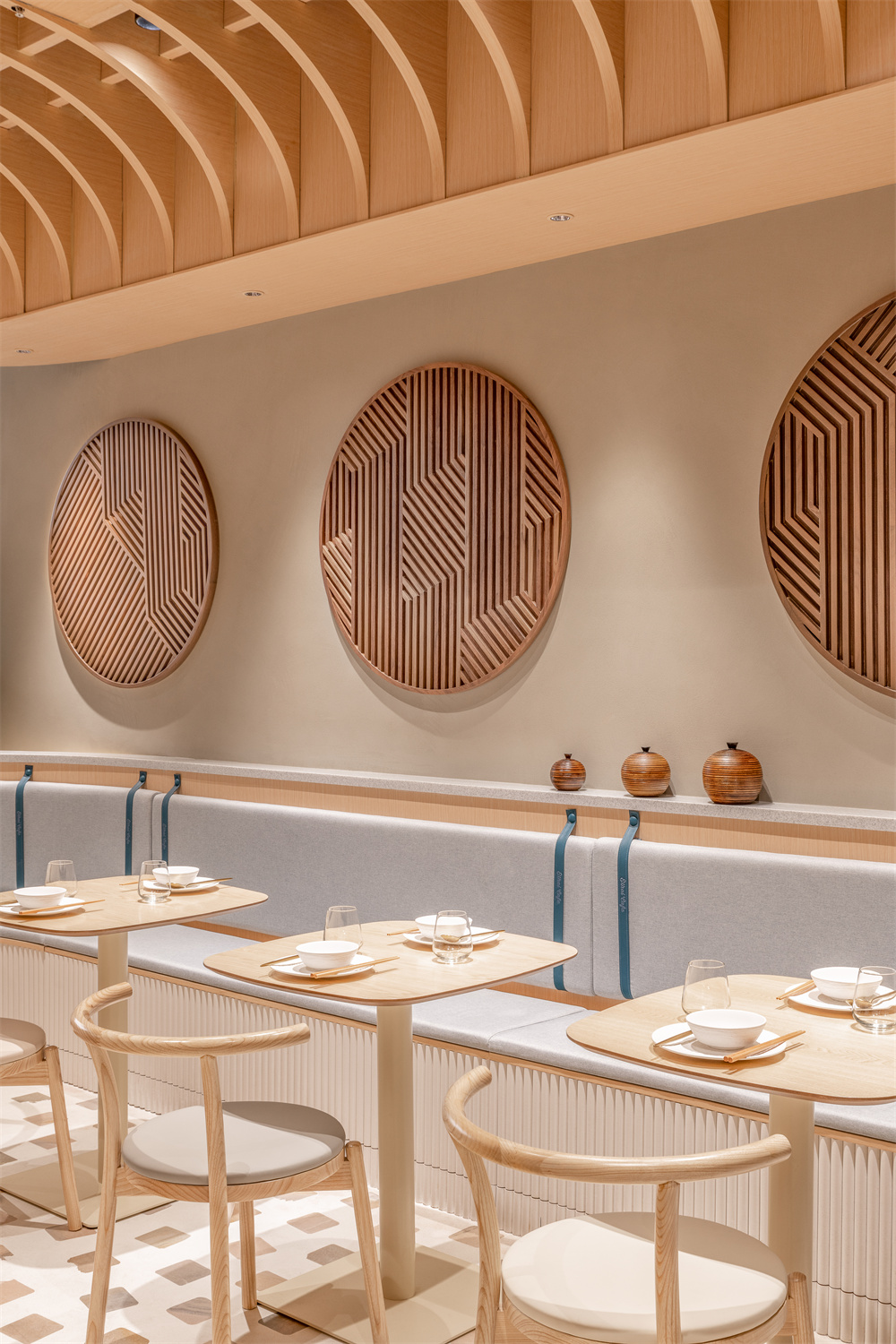 ▲用餐区
材料的选择进一步加强了这种沉静的想法,它采用了丰富的泥土色调和交替的粗糙和光滑的纹理。顾客在入口处受到夯土梯度的欢迎,然后饶有兴趣地注意到引导他们进入空间的粗糙的水磨石地板。当视线进一步抬高时,他们会发现由白色拱形瓷砖覆盖的垂直表面上有丰富的纹理。最后,艺术品构成了餐厅的不同焦点,带来了传统的泰国风情,并为 Ethai Café带来了整体性。
The material selection further enhances this idea of quiet sobriety by deploying a palette rich in earthytones and alternating rough and smooth textures. Welcomed by the rammed earth gradient at theentrance, the customer then notes with interest the coarse terrazzo flooring that guides them into thespace. Lifting further their eye-level, they will discover a rich texture on the vertical surfaces, covered bywhite arched tiles. Simultaneously, the environment feels natural from the wooden surfaces on thefurniture and the grid ceiling, as well as the vegetation. Finally, pieces of artwork constitute differentfocal points of the restaurant, bringing a traditional Thai touch and finalizing the integrality of Ethai Café. CN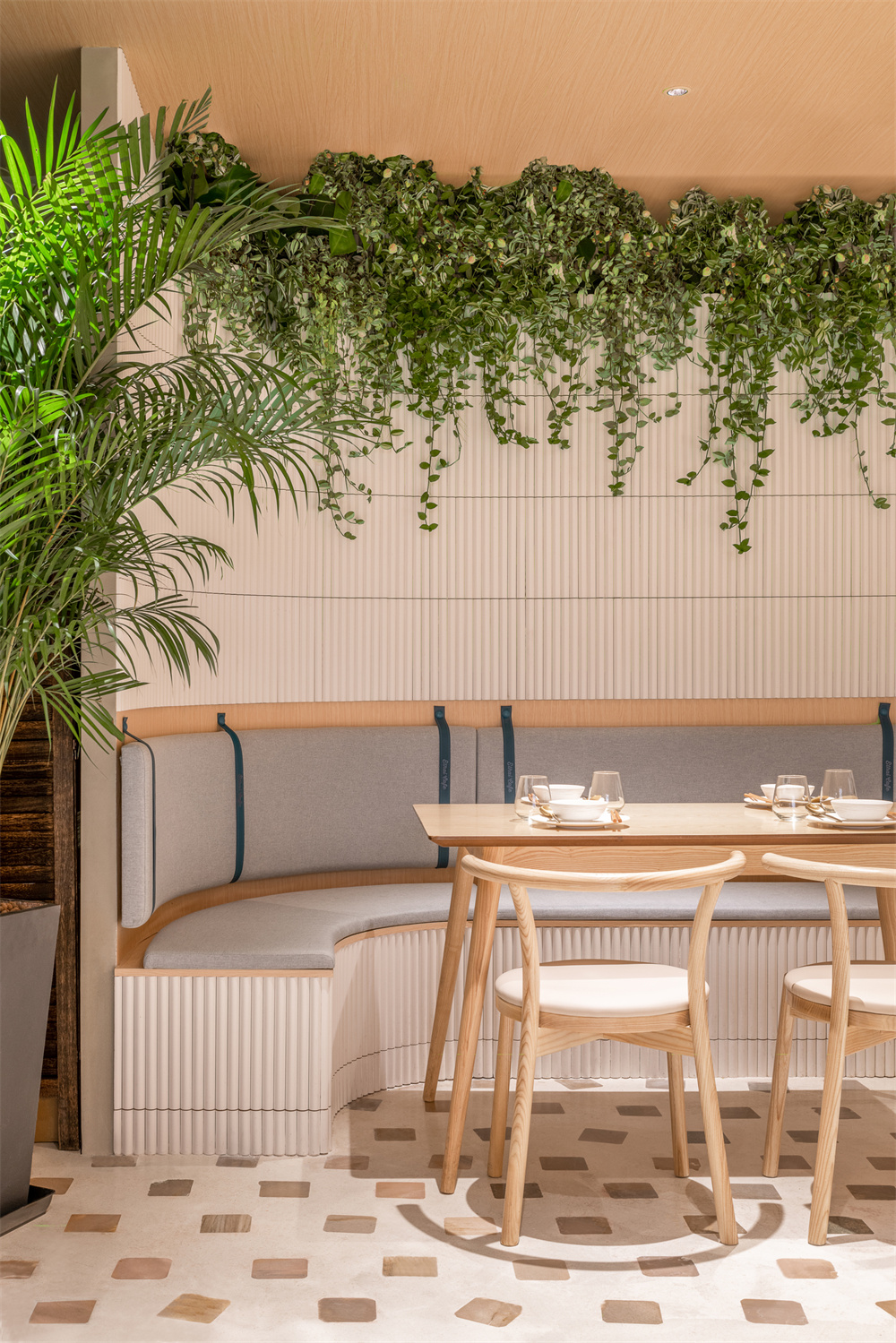 ▲餐厅一角
▲设计手稿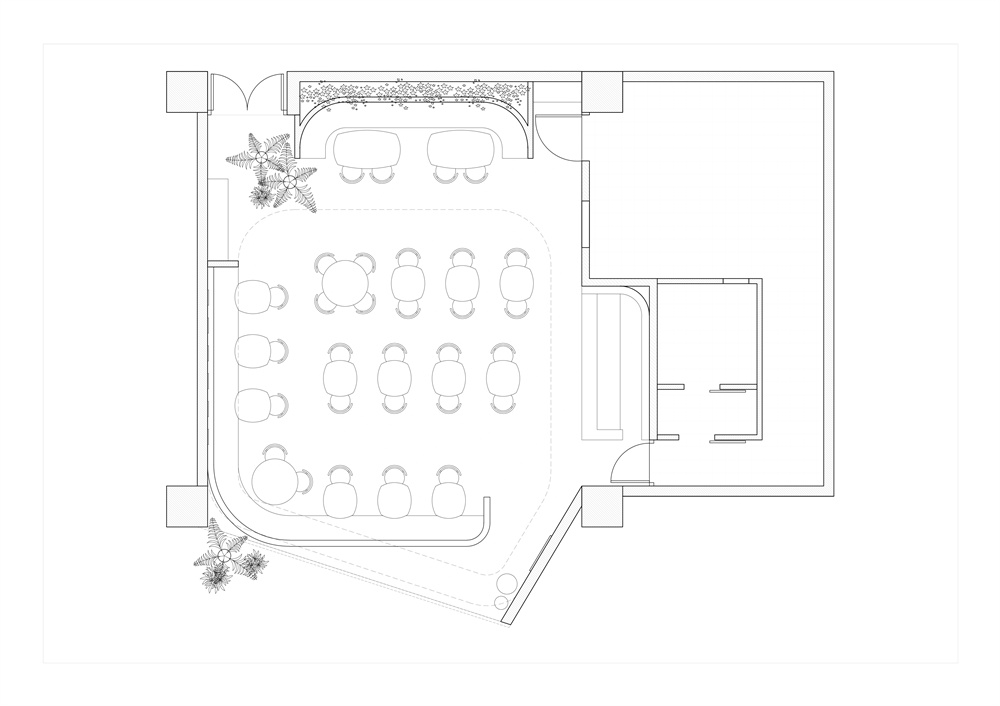 ▲平面图
Project information——
Client: Shanghai Ethai Restaurant Ltd
Location: Jing'an Kerry Centre, 150 Nanjing West Road, Shanghai (China)
Built area: 105 sqm
Completion (date): June 2021
Design Credits:
Space Design: Q&A – Quarta & Armando Architecture Design Research (www.qaadr.com, IG: @quarta_armando)
Design Team: Gianmaria Quarta, Michele Armando, Tang Shiyuan, Carlin Sun
Image Credits:
Architecture Photographer: Dirk Weiblen (http://dirkweiblen.com/)
Manufacturer/Brands:
KOTAN Chair by Naoto Fukasawa for Conde House
Rammed Earth and Artistic Painting by Nidu 泥度
Tiles by Changying 长盈
Lighting by nVc 雷士照明