随着生活水平的提升,现代社区的品质感日渐卓越,随之而来也改变了邻里社交的相处模式。人与社区环境出现了一定程度的割裂感,便捷的科技生活与网络社交更是加剧了这一现象。
With the improvement of living standard, the sense of quality of modern community is becoming more and more outstanding, which has also changed the mode of neighborhood social interaction. People and the community environment has a certain degree of sense of separation, convenient life of science and technology and network social networking is exacerbated by this phenomenon.

此次金辉集团打造的金辉颜选3.0产品中的"无界会所"架空层设计,正是秉承着对社区人文生态的美好愿景,给业主提供了家楼下的高颜值社交空间。一站式满足亲子童玩、运动、社交、颐养等需求,为生活演绎更多美好的可能。
RADIANCE GROUP created the Radiance Exquisite 3.0 products in the "Unbounded club"shelf design, is adhering to the community of the humanities and ecology of the beautiful vision, to provide the owners downstairs of the high-value social space. One-stop to meet the needs of parent-child play, sports, social, home care and other needs, for the interpretation of life more beautiful possibilities.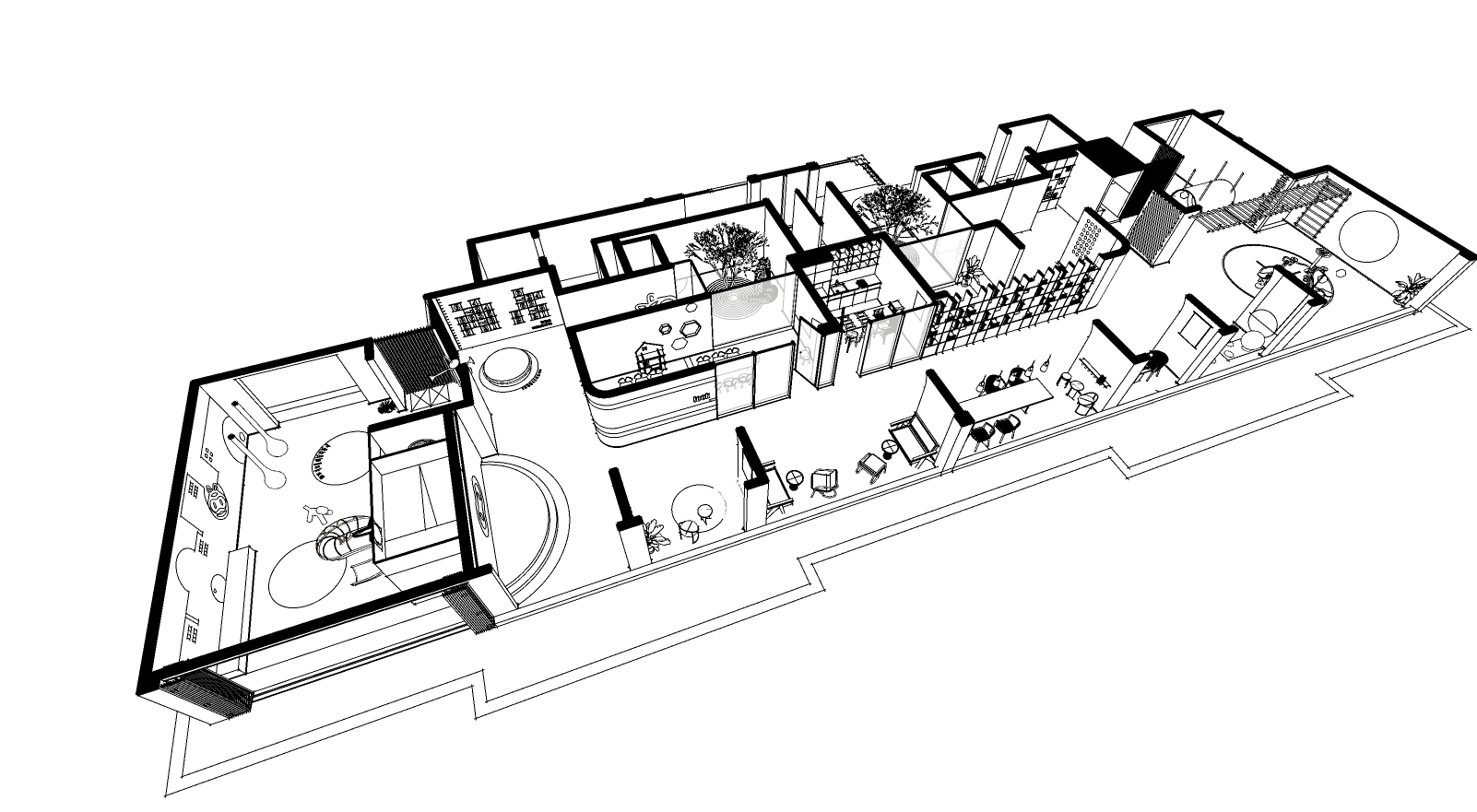 | 颜 选 色 彩 |
Color selection
首先,我们通过搭建色彩体系,融入进社区生活功能版块,如粉色系梦幻空间给予童年的美好,明黄系动感空间带来运动的激情,利用色彩心理学对应功能场景,能够有效提升人们对功能空间的参与感,以促进人与场景融通,拉进人与人的距离。
First, we create a color system that blends into the functional areas of community life, such as the pink fantasy space that gives childhood its beauty, the bright yellow dynamic space that brings the passion of movement, and the use of color psychology to respond to functional scenes, can effectively enhance people's sense of participation in the functional space, in order to promote the integration of people and scenes, pull the distance between people.
| 空 间 无 界 |
Unbounded space
「金辉颜选3.0」在沉淀与思考中再创造,通过科学的客户研究和功能设计,在架空层空间,打破内外空间界线,情与景交融,构筑室内与室外、建筑与自然、人与自然都可以无界沟通的「无界会所」。
"Radiance Exquisite 3.0" is re created in precipitation and thinking. Through scientific customer research and functional design, it breaks the boundary between internal and external space in the overhead floor space, blends emotion and scenery, and constructs an "unbounded meeting place" where indoor and outdoor, architecture and nature, and man and nature can communicate boundlessly.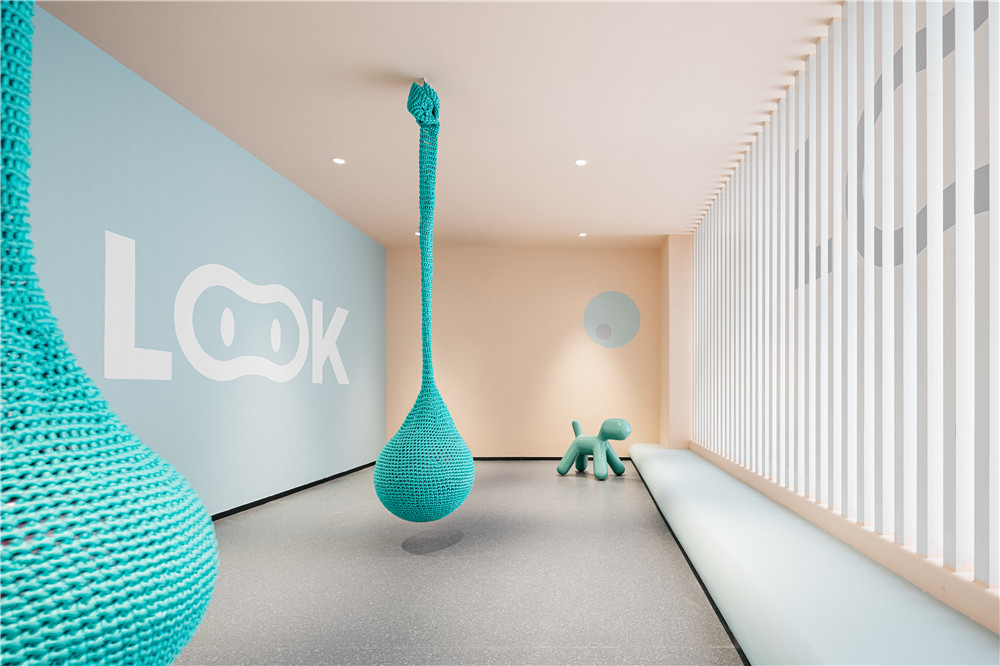 | 关 爱 无 界 |
Boundless love
「金辉颜选3.0」也通过人性化设计,在无界会所架空层,给予需要特殊关注的人群极致地细节关注。比如,在童玩区,设计师从自己的生活经历中汲取灵感,为成长中的小朋友专门设计学步台及学步扶手,让家长不用弯腰就能陪伴孩子的每一步成长。
"Radiance Exquisite 3.0" also pays extreme attention to details for people who need special attention on the overhead floor of the unbounded club through humanized design. For example, in the children's play area, designers draw inspiration from their own life experience and specially design walking platforms and walking handrails for growing children, so that parents can accompany their children's growth without bending down.
安全爬网、软包座椅、防撞墙角、尿布台、婴儿车位等人性化细节,保障安全的同时,让家长也有陪伴成长的空间。全龄段无死角监控、防眩光照明、便民挂钩、宠物专属区等日常细节,在设计点滴中渗透关爱细节,让生活的偶然需要都成为设计的绝对必要。
Humanized details such as safe climbing, soft seat, anti-collision corner, diaper table and baby parking space not only ensure safety, but also allow parents to grow up with them. There are no dead corner monitoring, anti glare lighting, convenience hooks, pet exclusive area and other daily details in the whole age section. Care details are penetrated into the design bit by bit, so that the accidental needs of life become an absolute necessity of design.
| 功 能 无 界 |
Function unbounded
疫情的出现让人们重新审视居住和生活,活动范围以家为圆心半径缩小,越来越多人热切渴望拥有更丰富安全的社区活动空间。
The emergence of the epidemic makes people re-examine their living and life. The scope of activities is centered on home, and the radius is reduced. More and more people are eager to have a richer and safer community activity space.
我们充分研究社区各年龄层的使用需求和生活习惯,确定了四大主题空间版块并深入分析,从而呈现出最优的设计效果,为社区居民提供"小有所乐,青有所娱,老有所趣"的无界活动空间,全家人都能在这里找到自己的乐活空间。陪伴不会被空间阻隔,所有温馨、美好的生活场景都在此无限延展。
We have fully studied the use needs and living habits of all ages in the community, determined four theme space sections and conducted in-depth analysis, so as to present the best design effect, and provide community residents with an unbounded activity space of "small fun, youth entertainment and old fun", where the whole family can find their own fun space. Company will not be blocked by space, and all warm and beautiful life scenes will be infinitely extended here.
| 慧玩:即享陪伴,欢乐童年 |
LOOK KIDS:Enjoy the company, Happy Childhood
我们为儿童打造了6种功能模块,关注儿童生长需求,行为特点,亲子共享等重要特色,满足社区对亲子共享的全面需求。
We have created 6 functional modules for children, focusing on children's growth needs, behavioral characteristics, such as the important characteristics of parent-child sharing, to meet the overall needs of the community for parent-child sharing.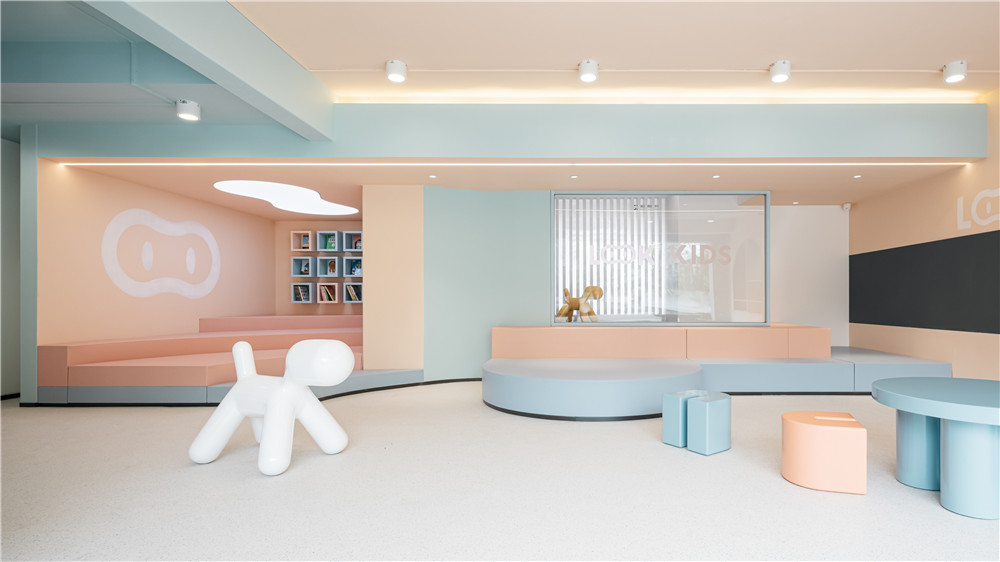 | 慧动:挥汗时刻,健康加成 |
LOOK GYM:Sweat Time, health bonus
我们将趣味健身与功能器械结合在一起,通过富有运动活力感的色彩与IP主题画面搭配,为喜爱运动的人士打造了力量训练、趣味运动以及舒缓拉伸的专属天地。
We combine fun fitness with functional equipment, and create an exclusive world of strength training, fun sports and soothing stretching for people who love sports by matching vibrant colors with IP theme pictures.
| 慧趣:自在养生,悠然自得 |
LOOK GRAND:free health, leisurely and carefree
长者对社区公共空间的使用率最高,我们也充分考虑到了年长者的诉求,适量运动、益智会友,自然清新的空气与生机盎然的景观绿植,阳光和煦下是一副不输年轻人的精气神。
The elderly have the highest utilization rate of community public space. We have also fully taken into account the demands of the elderly, such as moderate exercise, educational gathering, natural and fresh air, vibrant landscape and green plants. Under the warm sun, it is a spirit that does not lose the spirit of the young people.
| 慧聊:丰富生活,从心交流 |
LOOK FRIENDS:enrich life and communicate from the heart
为社交提供完美场域,以会客交流区,书吧阅读区,X-空间实现知己的派对时光,带来生活无限享法。
Provide a perfect field for social interaction, realize the party time of confidants with reception and communication area, book bar reading area and X-Space, and bring unlimited enjoyment of life.
在完成整个模块设计后,我们通过实际项目的落地呈现,优化并验证金辉颜选3.0无界会所的呈现效果。
After completing the whole module design, we optimized and verified the presentation effect of Radiance Exquisite 3.0 unbounded club through the landing presentation of the actual project.
成都金辉凤栖云璟实景展示:
Radiance Chengdu Feng Qi Yun Jing live show
「金辉颜选3.0」无界会所,打破室内外空间的界限,让架空层的空间成为社区的内置与家的外延。在无界会所,社区再不是钢筋水泥森林中冰冷的房子,而是有温度、有交流、有趣味的精神场域。
有度生活,无界会所,让我们为未来更美好生活助力!
"Radiance Exquisite 3.0" unbounded Club breaks the boundaries of indoor and outdoor space and makes the space on the overhead floor become the built-in of the community and the extension of the home. In the unbounded club, the community is no longer a cold house in the reinforced concrete forest, but a spiritual field with temperature, communication and interest.
Live a life without boundaries, let's help for a better life in the future!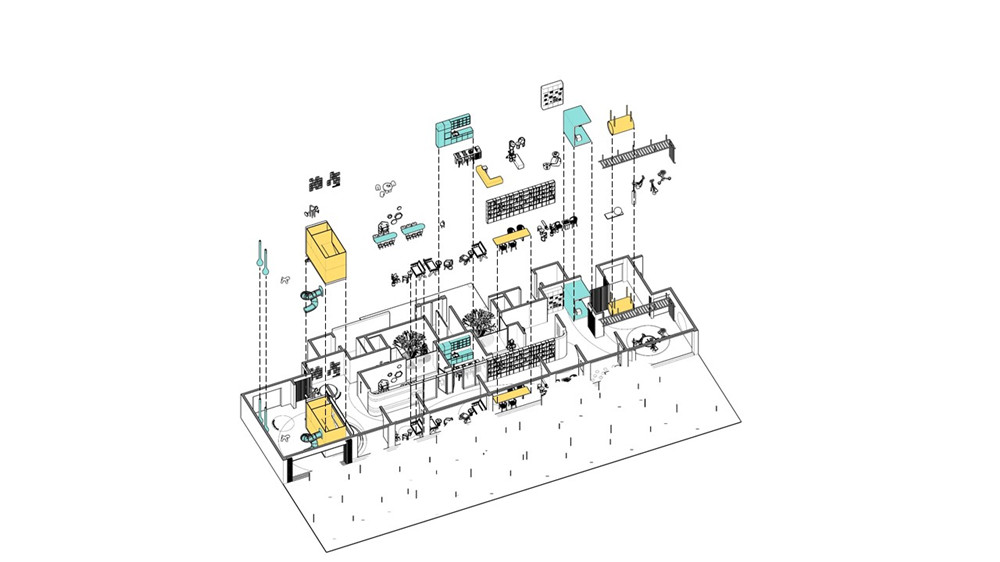 项目信息——
项目名称:金辉颜选3.0——无界会所
项目地点:四川成都
项目面积:约350㎡
设计业主单位:金辉控股(集团)有限公司
设计机构:宇合光年
邮箱:contact@funconn.com
主设计师:张耀天
设计团队:陈彦周、庄长通、邱逸雯
深化设计:黄颖文
平面设计:骆聪毅、沈芸轩
软装设计:向海燕、符月
设备单位:萌童游乐设备(天津)有限公司
摄影师:木羊
Project Information——
Project Name:Radiance Exquisite 3.0 – Unbounded Club
Project location:Chengdu, Sichuan
Project area:About 350㎡
Design Owner:RADIANCE GROUP
Design Institute:Fun Connection Design
Email: contact@funconn.com
Design Guidance:Li Zhen、 Gao Ting
Chief Designer:Zhang Yaotian
Design Team:Chen Yanzhou、Zhuang Changtong、Qiu Yiwen
Deepening Design:Huang Yinwen
Graphic Design:Luo Congyi、Shen Yunxuan
Soft Decoration Design:Xiang Haiyan、Fu Yue
Equipment Unit:Mengtong Amusement Equipment (Tianjin) Co. , Ltd.
Photographer:Mu Yang