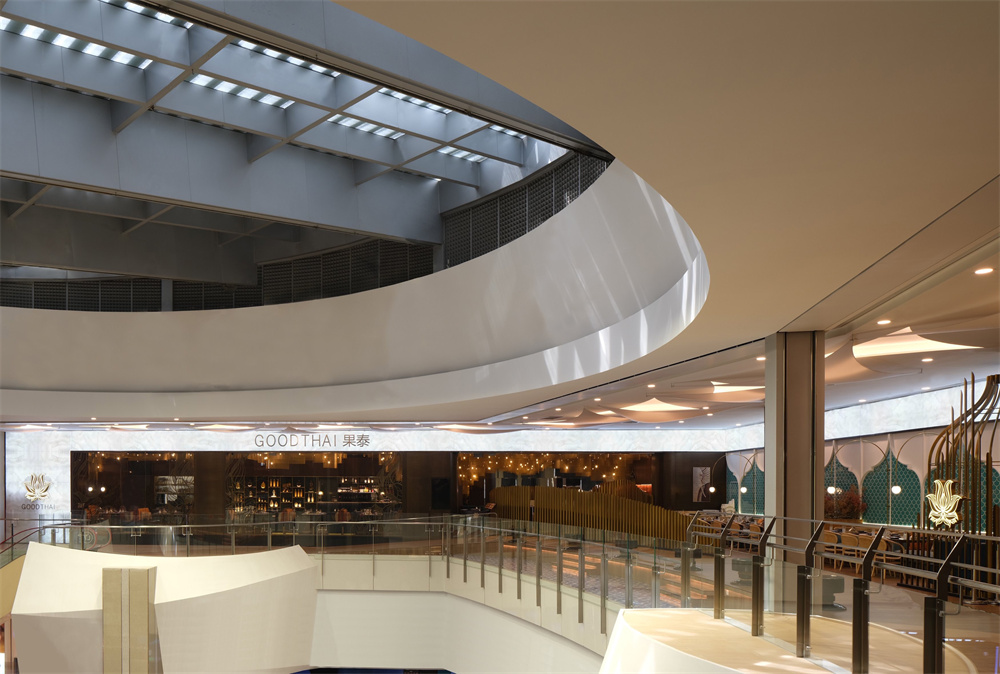 果泰是上海市中心一家当代风格的泰式料理。餐厅的设计描绘了一个神秘的阿普萨拉舞者的故事。她是一位有着非凡美貌的天仙,婀娜多姿、魅力十足。作为一个超自然生物,她是泰国印度教文化的云水女仙。神秘而难以捉摸,她经常身披美丽的丝绸、头戴象征泰王朝财富的精美繁复的金色头饰,在王宫里翩翩起舞,吸引众神和男人。
GOODTHAI is a contemporary Thai restaurant located in heart of Shanghai city. The concept for the restaurant depicts the story of a mystical Apsara dancer, a celestial nymph of exceptional beauty, that seduces and charms. She is a supernatural creature, a female spirit of the clouds and waters of Thai Hindu culture. Mystical and elusive, the dancer is often draped in beautiful silk costumes whilst donning the most flamboyant golden headdresses with intricate embellishments reflective of the wealth and prosperity of the Thai empires as she dances in the royal palaces to entertain and seduce the gods and men.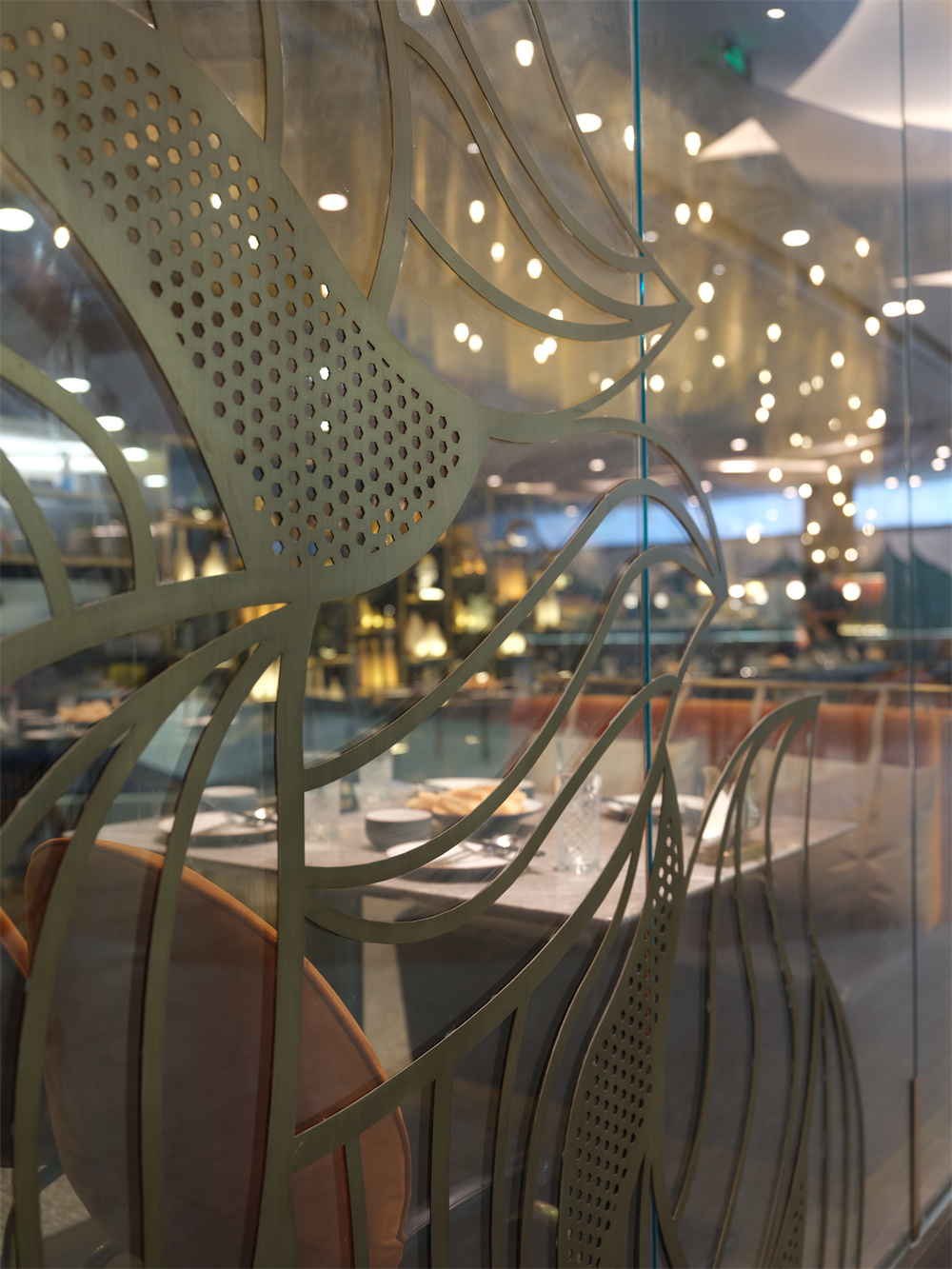 餐厅的设计借鉴了阿普萨拉舞姿的剪影,将舞动的韵律感转化成一种当代建筑体验,在唤起流动性和动感的同时,以大气的选材、设计图案和细节来庆祝泰国固有的文化和美学。
The design of the eatery draws from the silhouettes of the Apsara dance movements, translating this sense of rhythm into a contemporary architectural experience that evokes fluidity and motion whilst celebrating the intrinsic Thai culture and aesthetics with majestic materiality, motifs, and detailing.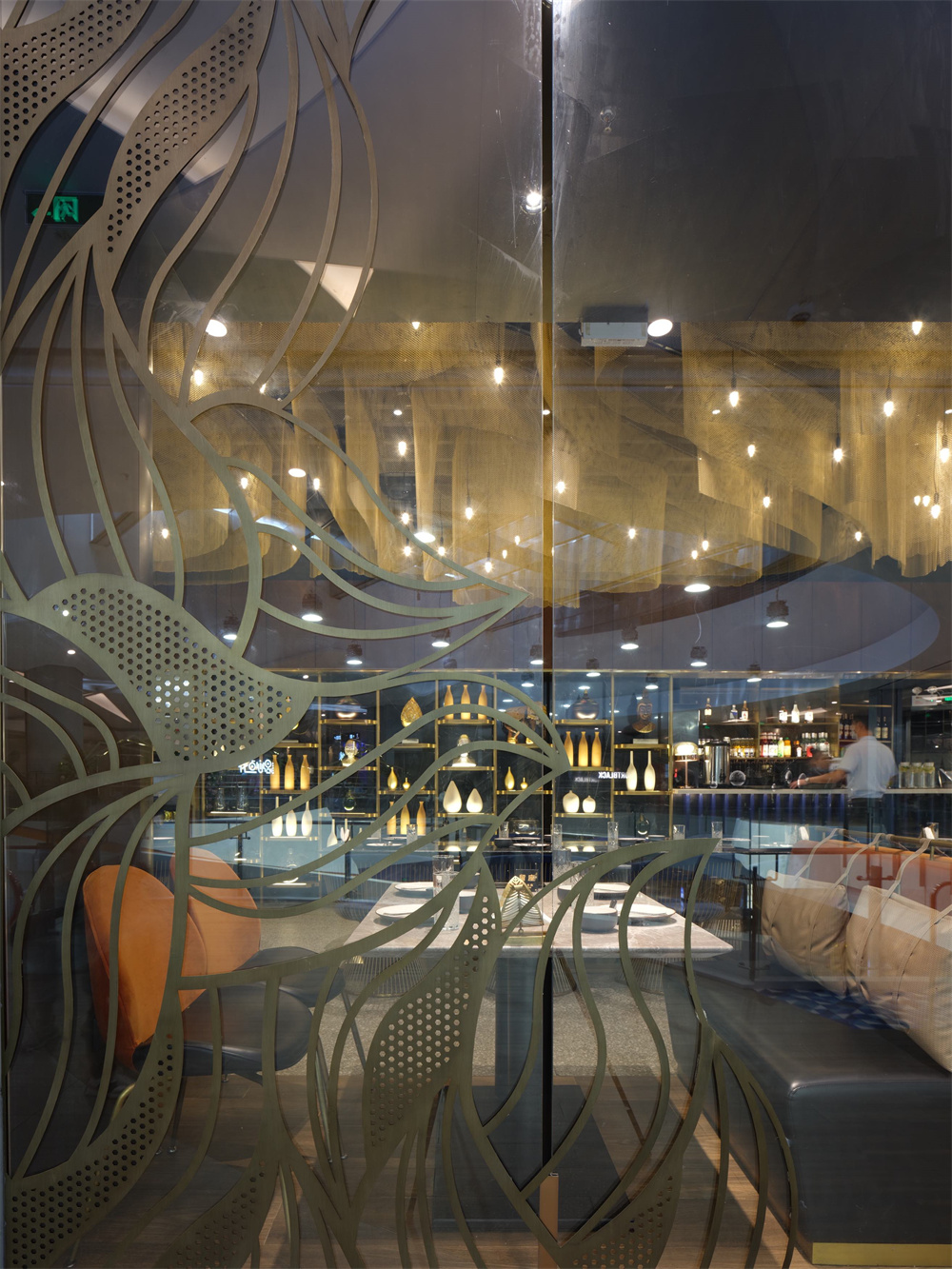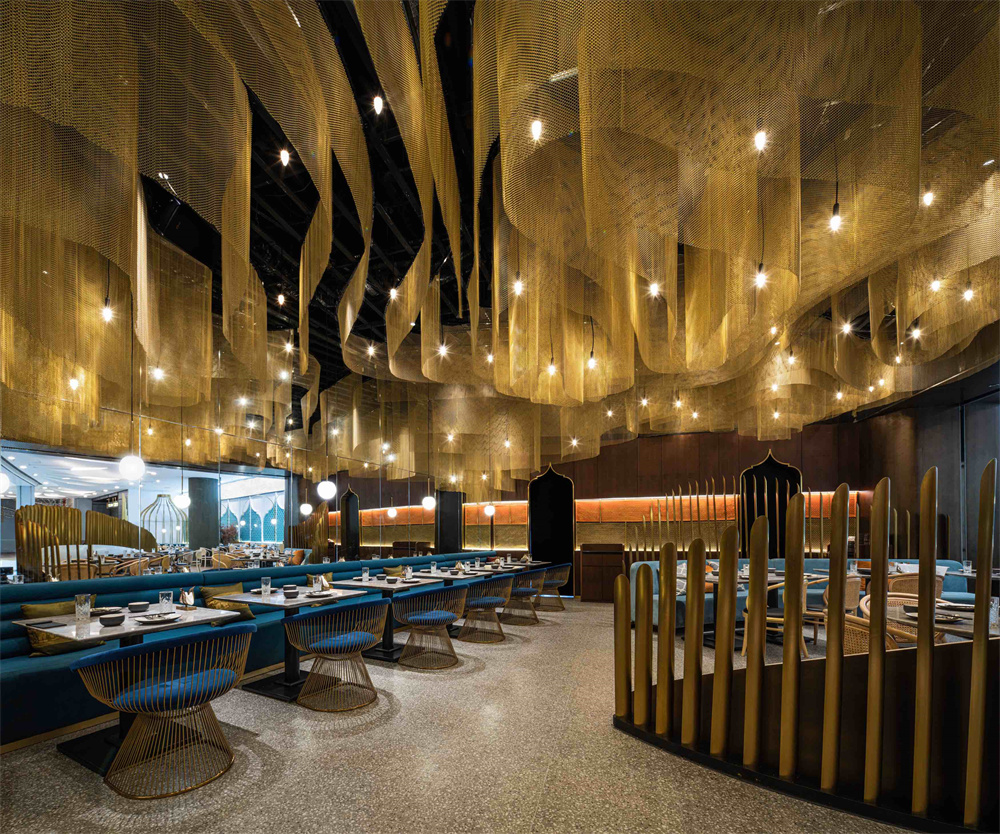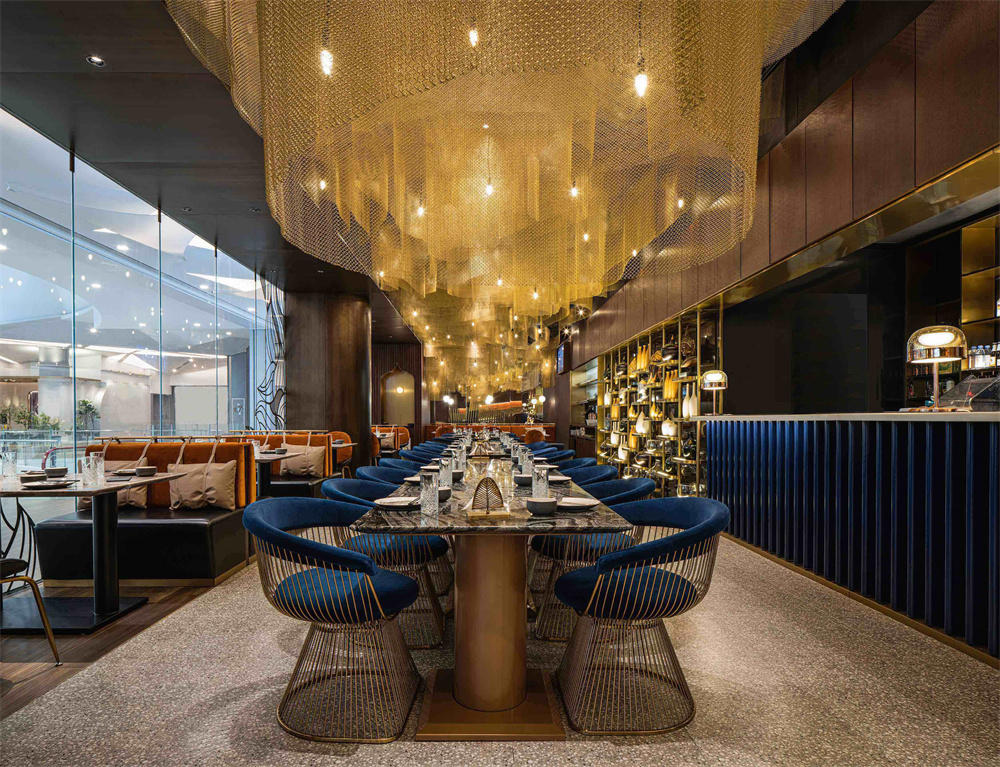 客人到达后,首先映入眼帘的是熠熠发光的外立面,表面镶嵌的缟玛瑙仿佛灯笼一般温暖地迎接客人。精致的青铜屏风围绕外窗,灵感来自"Bua",即俗称的莲花,在泰国文化中象征好运吉祥。
Upon arrival, guests are greeted by the warmth glow of the onyx clad façade that glistens like a lantern. Intricate bronze screens that frame the exterior windows are inspired by the 'Bua', or commonly known as the lotus flower, an auspicious symbol that is believed to bring good fortune in Thai culture.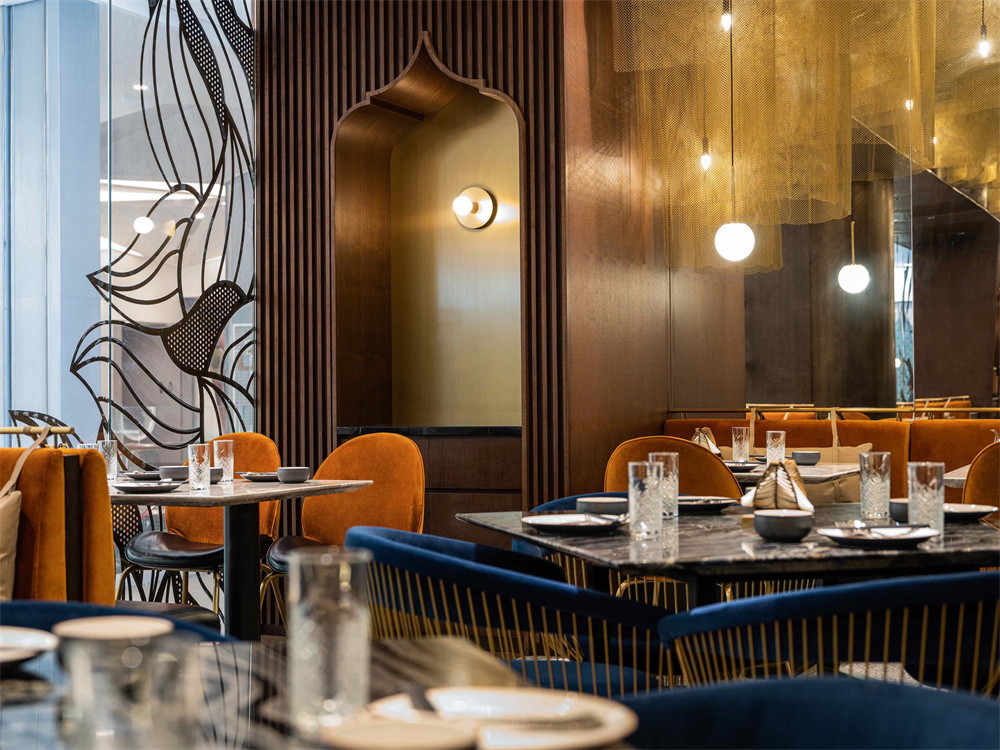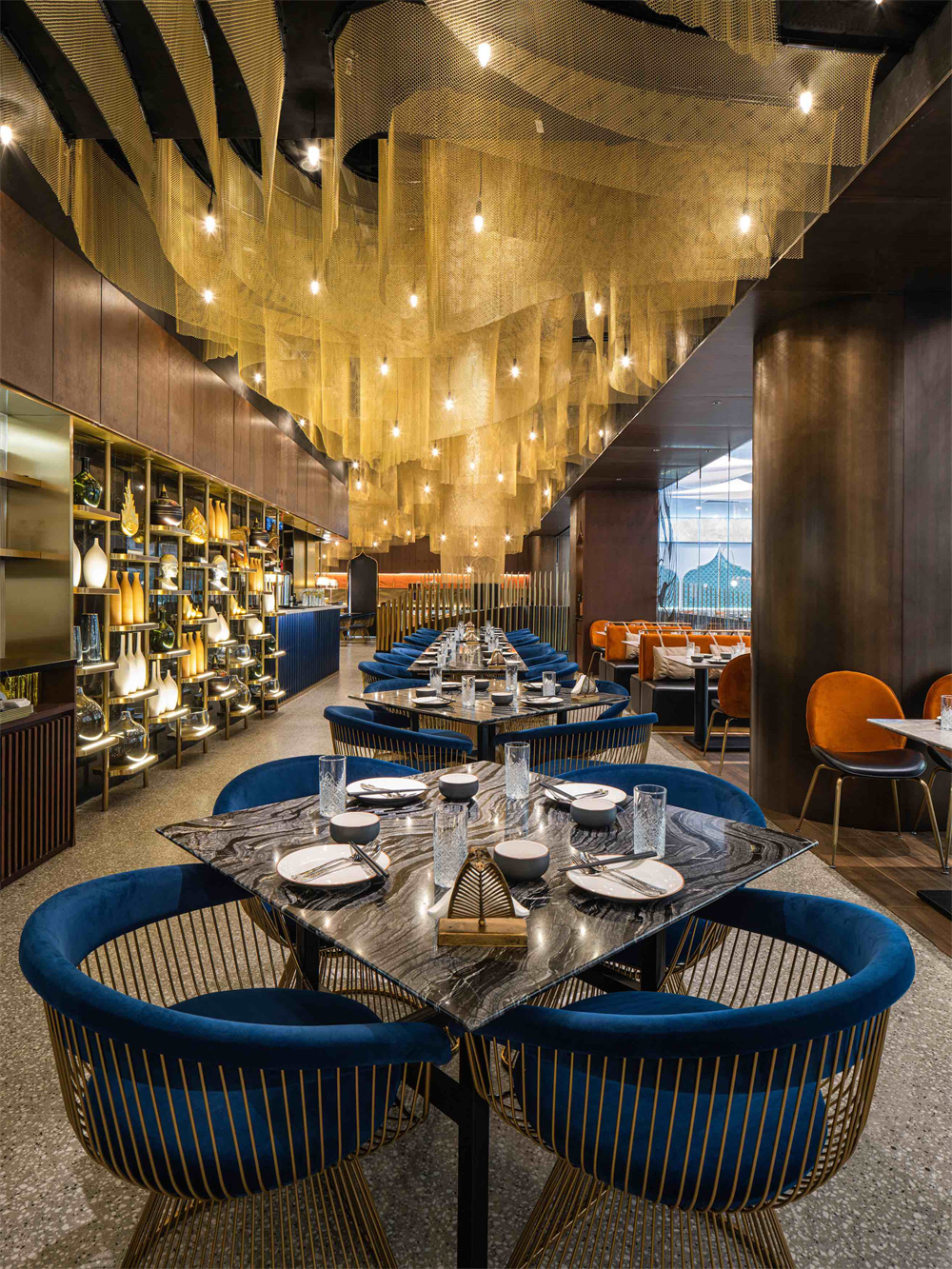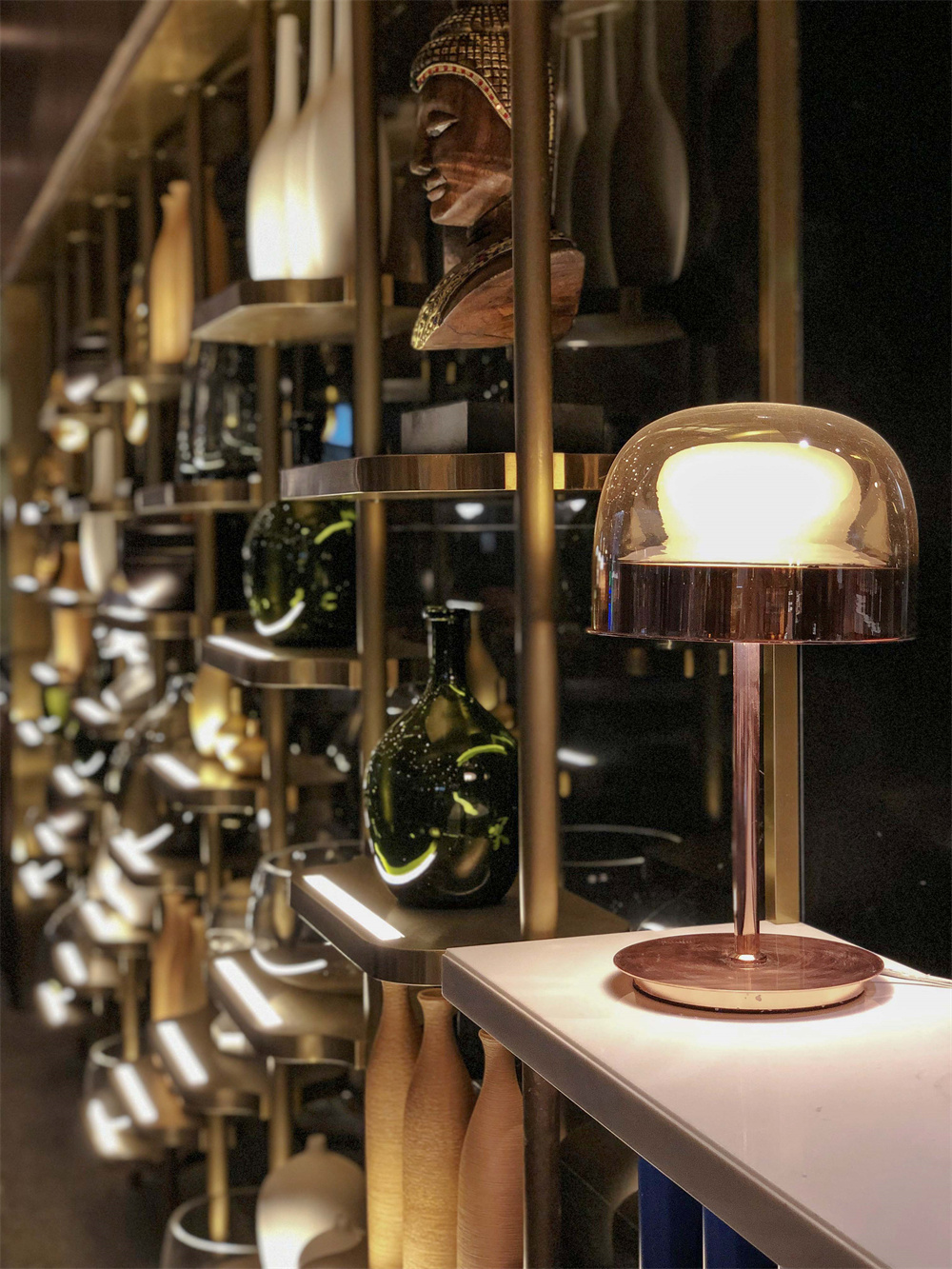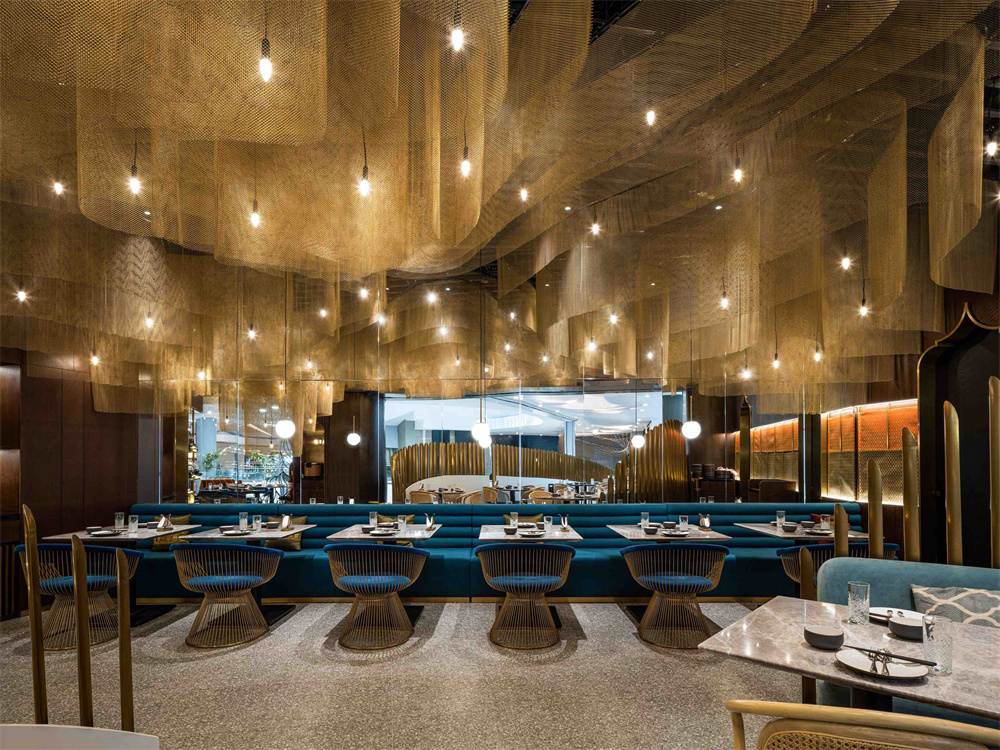 餐厅的主用餐区是对阿普萨拉舞者所穿的皇家服饰的抽象演绎。天花板的设计受到舞者头饰上球形图案的启发,在用餐区上方曲折蜿蜒、无限延伸。金色网格的动态曲线设计模仿舞者活跃的手部动作,仿佛她在上空优雅表演时,手指和手势清晰的轮廓。
The main dining hall of the restaurant is an abstract interpretation of the royal costumes donned by the Apsara dancer. The spherical motifs of the headdress serves as the main inspiration for the sculptured ceiling that appears to curve and weave endlessly above the dining area. The sweeping curvilinear motion of the gold mesh mimics the dynamic hand movements of the dancer as she appears to be gracefully performing above, articulating the silhouettes of her fingers and hand gestures.
用餐区域选用深色木材饰面,并以海军蓝、橙色和金色内饰加以渲染,这些颜色常见于舞者穿着的褶皱丝绸锦缎 "Pha Nuang"当中。黄铜家具和金属细节的结合呼应了舞者领子和手腕上穿戴的装饰品和金色铜饰。
The dining area is clad in dark timber finishes, accentuated with tones of navy blue, orange, and gold upholstery inspired by the 'Pha Nuang', a pleated silk brocade that is worn by the dancer. A composition of brass furniture and metallic detailing reflect the decorative accessories and gold-colored copper ornaments found on the collars and wrists of the dancer.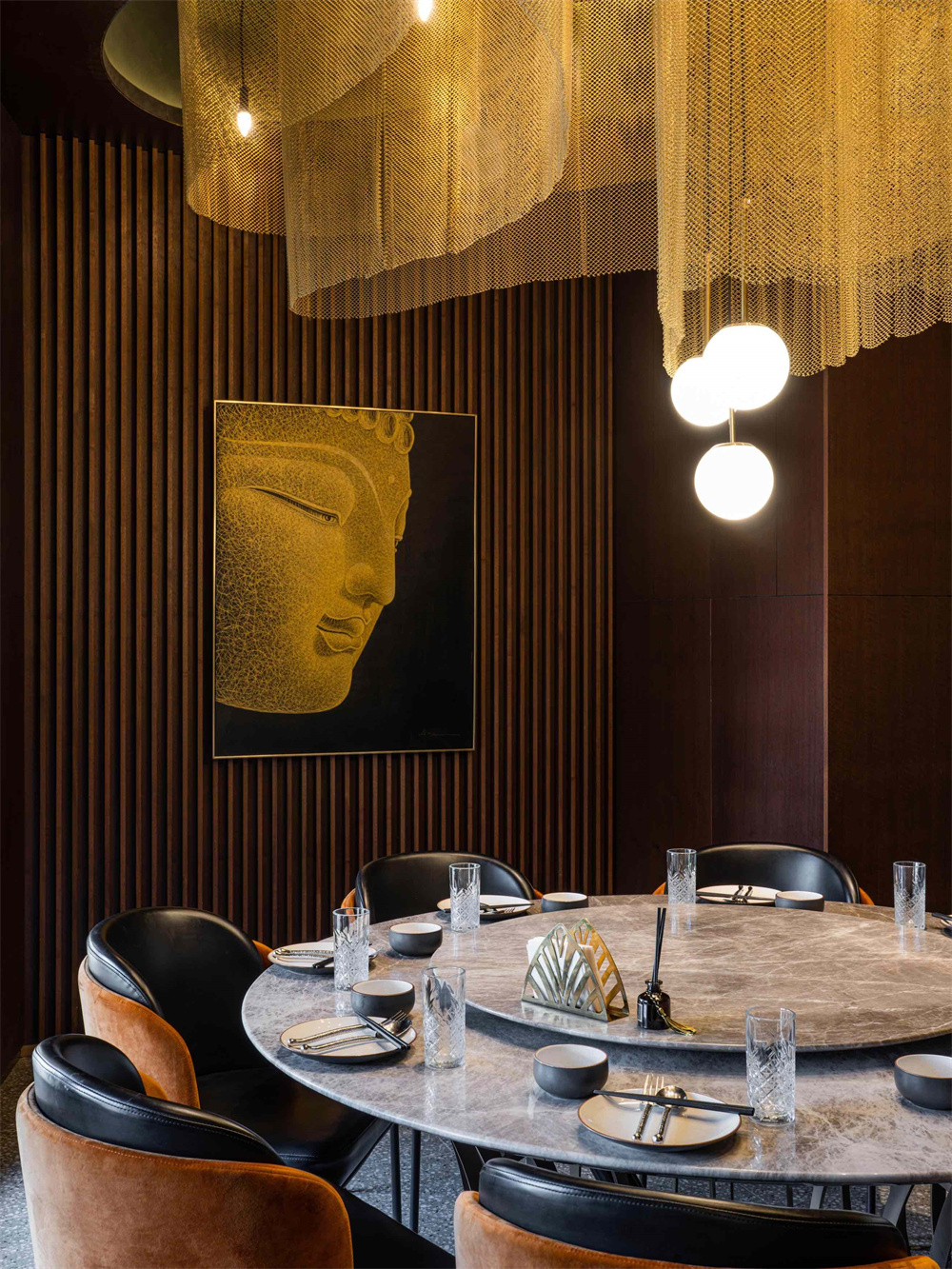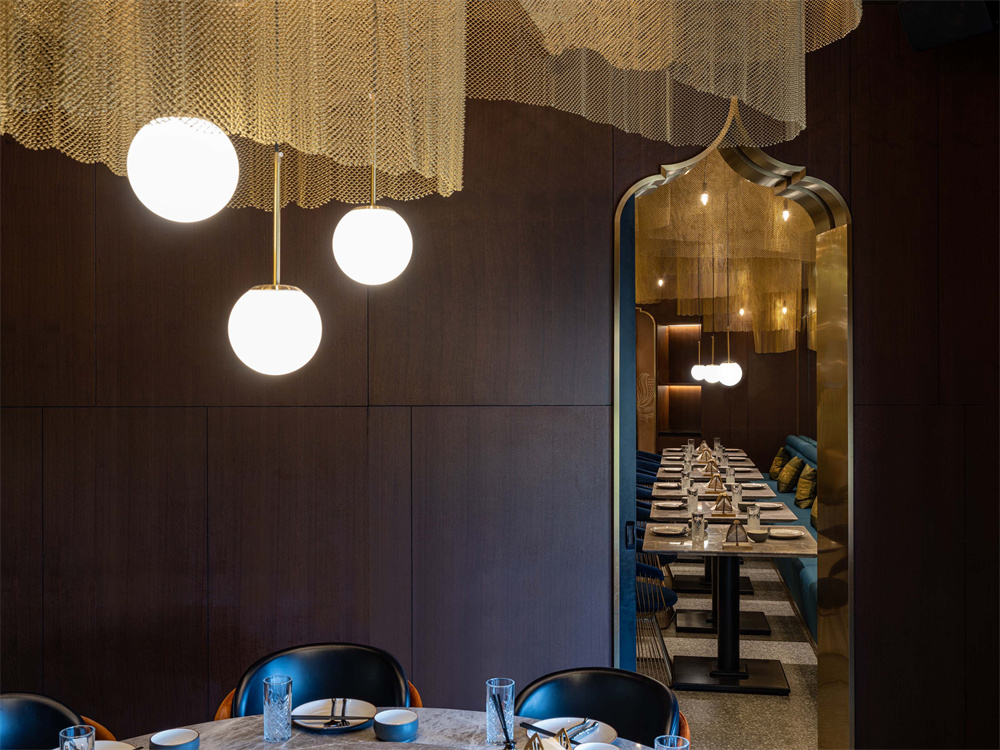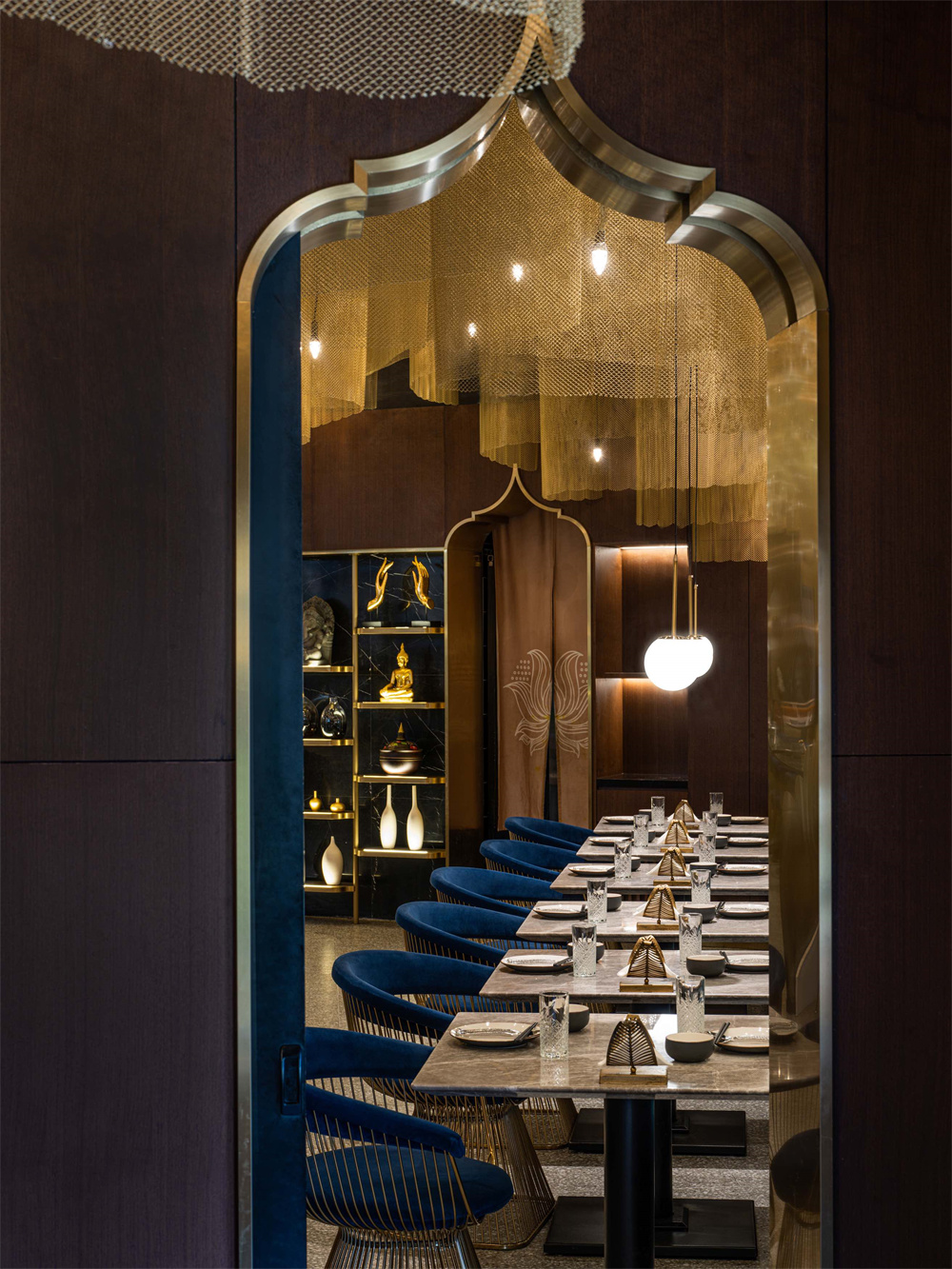 穿过用餐区有两个黄铜拱门,带领客人到达包房用餐区,其造型来自传统泰国庙宇华丽的三角形屋顶侧影。这些私密的房间由黄铜金属屏风隔开,屏风上复杂图案的灵感来自泰国丝绸刺绣里的金属线。深色胡桃木调色板让​​视觉焦点落在从天花板层层垂落的定制金色金属吊灯上。
Past the dining hall, two brass archways informed by the ornate triangular roof profiles of traditional Thai temples lead guests into the private dining area. The intimate rooms are divided by brass metallic screens with intricate patterns inspired by the metallic threads of Thai silk embroidery. A dark walnut timber palette allows the focus to fall on the bespoke gold mesh chandelier cascading down from the centre of the ceiling.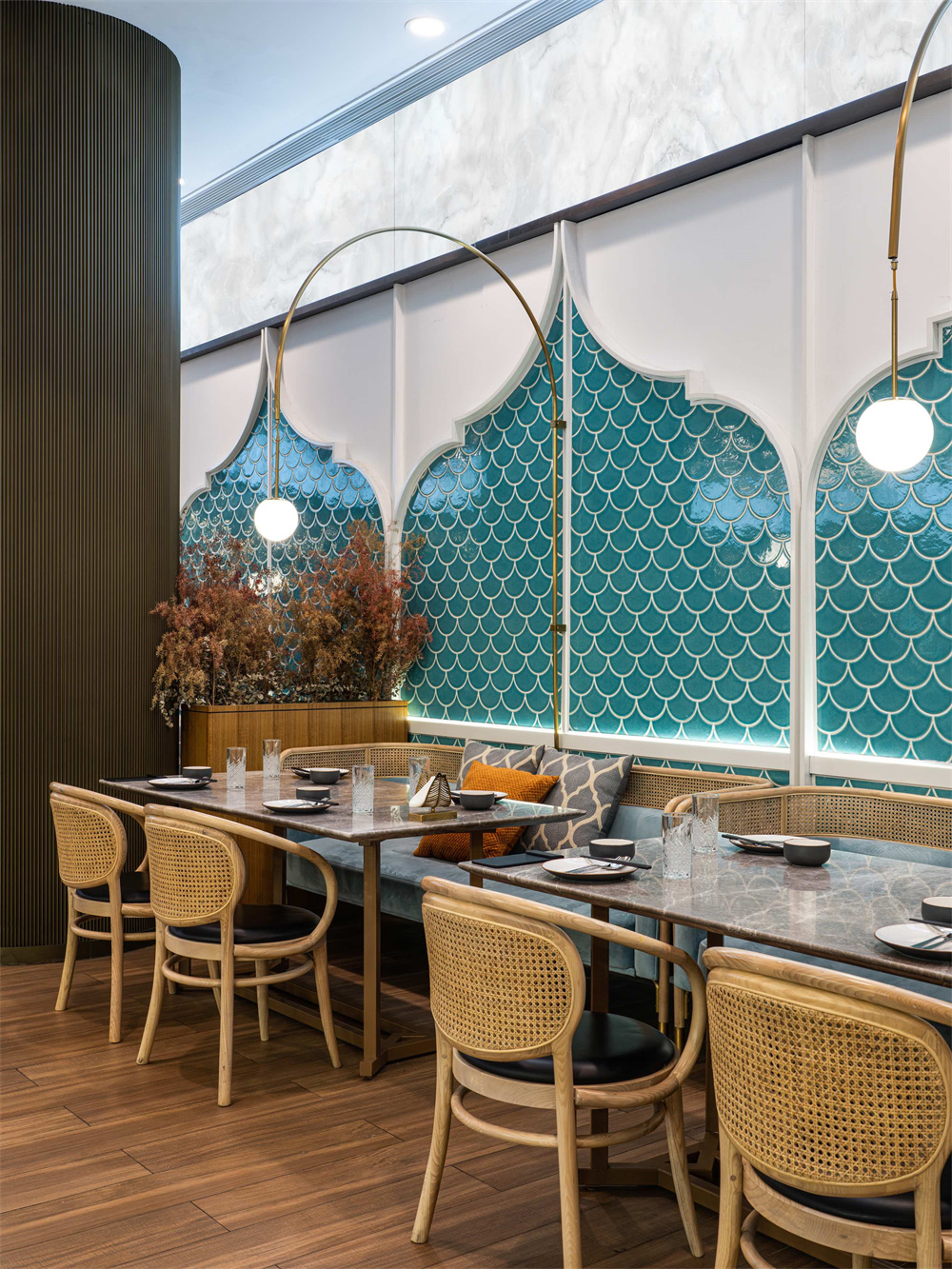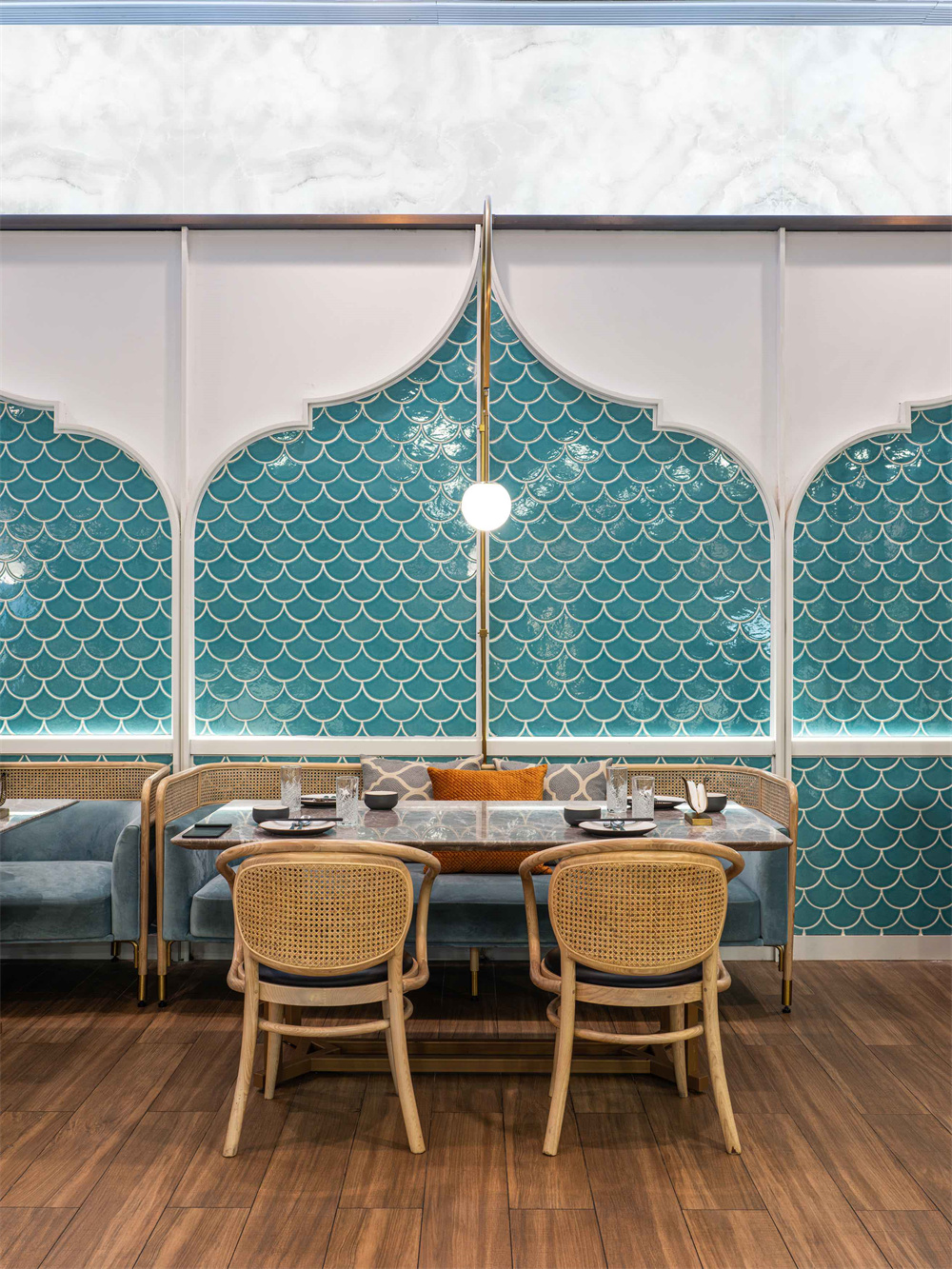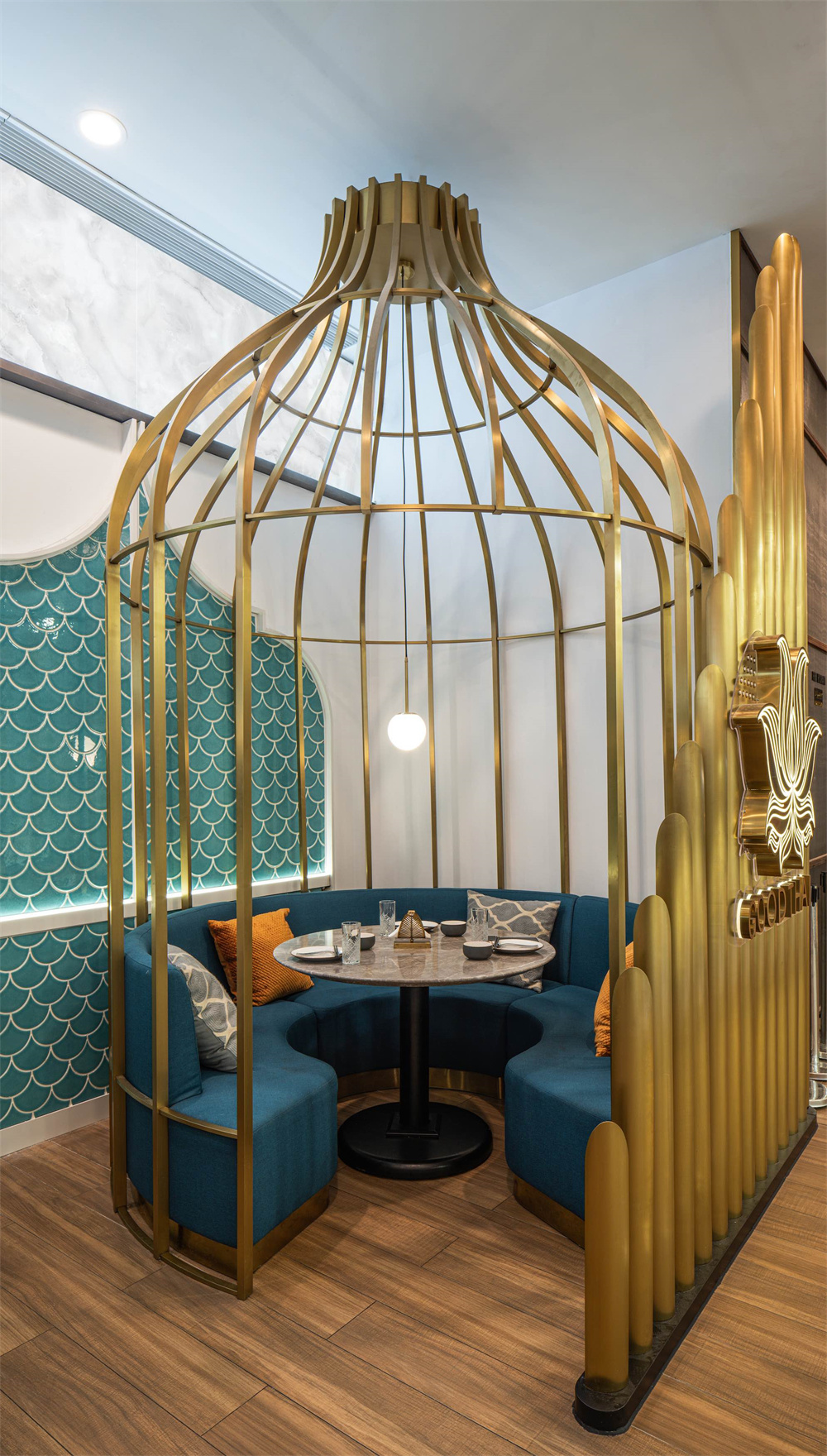 一排垂直的黄铜板条从主餐厅向外流动到户外用餐区,整体材料色调过渡到浅蓝色沙发、藤椅和绿松石瓷砖等浅色调。
A row of sweeping vertical brass slats flow outwards from the main dining hall to the outdoor dining area as the overall material palette transition into a lighter tone with sofas of light blue upholstery, rattan chairs and turquoise tiles.
Project Information——
Project name: Goodthai 果泰
Architect' Firm: Spacemen
Website: http://spacemen-studio.com/
Contact e-mail: Edward@spacemen-studio.com
Lead Architects: Edward Tan
Team: Raymond Tang, Ed Chan, Simon Liu
Project location: Unit 101, Level 6, No.268, Xi Zang Middle Road, Huangpu District, Shanghai, PRC. 室西藏中路268号来福士广场7楼703-705
Completion Year: 2021
Gross Built Area (square meters): 380sqm
Photo credits: Chen Xuan, Min 闵晨轩